Why Do Women Own So Many Handbags?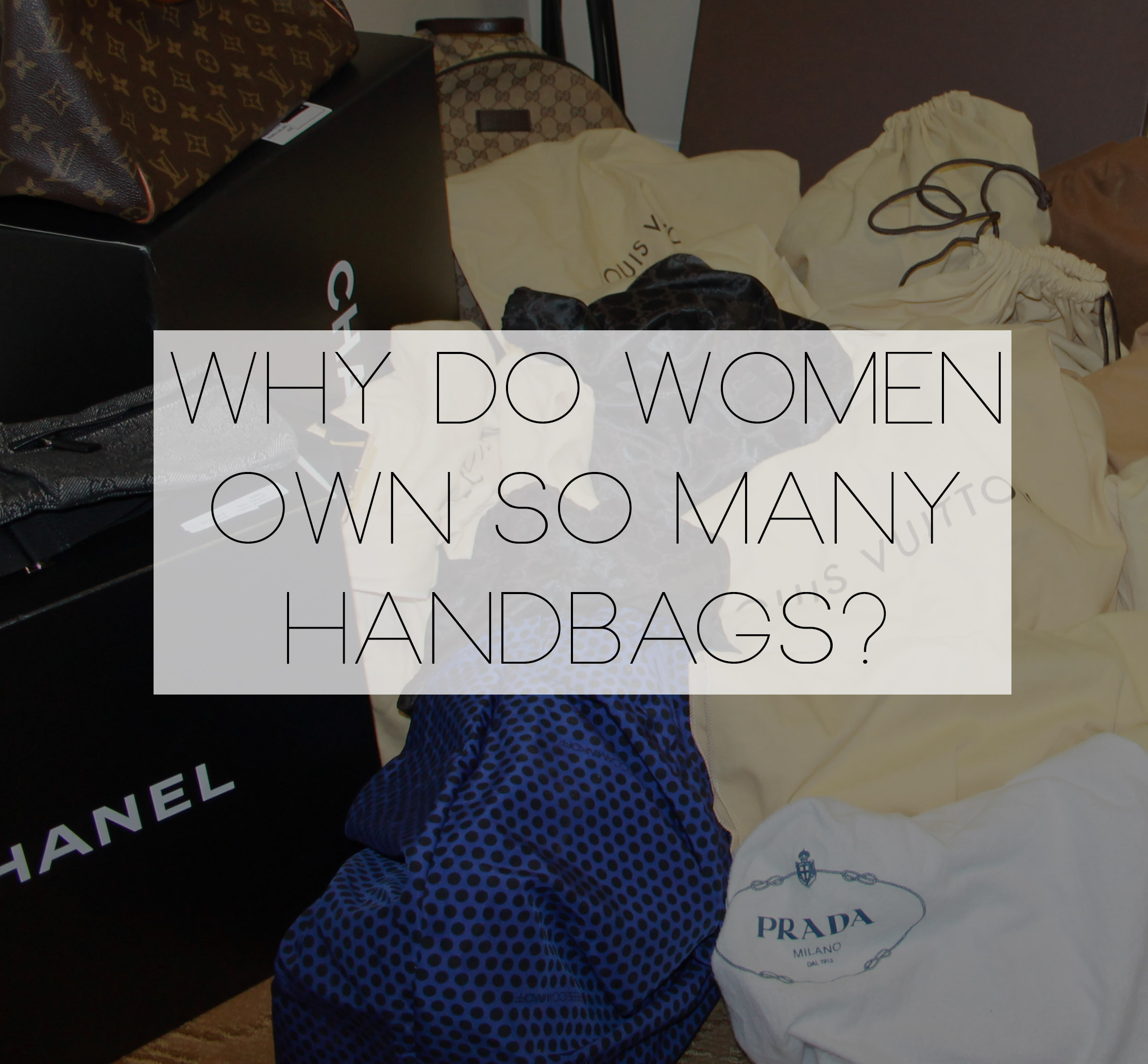 Realistically, why do women own so many handbags? Wouldn't it be easier if we just found that one neutral colored handbag that was the perfect size, carried all of our daily essentials, and went with every single outfit we owned? That would make things too easy right? We are women, we have a keen eye for fashion and one handbag just won't do for us! So why do we own so many handbags? In my opinion, there are three reasons why we own so many handbags.
Status Symbol

– It's all about owning the most luxurious designer handbags and showing them off. We want that Chanel bag that Rihanna was carrying on the Red Carpet or that new crocodile Hermes Birkin bag that Victoria Beckham carried in the streets of London. We always want the next hottest bag, even if it requires us to spend a fortune. Owning a designer handbag such as Louis Vuitton, Chanel or Hermes portrays a sense of sophistication, wealth and poise. A woman who carries Chanel is a total fashionista with a flirty and colorful personality. She has high standards for beauty and fashion and feels comfortable in her own skin. Her go-to Chanel bag would be her Lambskin Classic Flap Bag because it's the perfect casual to formal bag for any event. A women who wears Louis Vuitton is easily adaptable to different scenarios. She can be the rough and rugged woman out in the mountains hiking or be that preppy businesswoman who controls her career, household and social life. Her favorite go-to Louie is the Neverfull because it can carry everything she needs from morning to evening and serve for many purposes. A woman who carries an Hermes bag will tell you that she is a "one bag type of woman." An Hermes bag is a supreme status symbol because of it's cost, and will radiate the sense of power and wealth. This woman's go-to Hermes bag is the Kelly 28cm because it's not too bulky like the Birkin, and not too small like the Evelyne. It's the perfect bag to carry while taking over the world.
Must Go With Our Outfit

– Just like shoes, sometimes we need that special bag to go with that perfect outfit, especially if we are attending an event that we just have to look absolutely amazing! You wouldn't carry a Prada Saffiano tote to your sister's wedding, right? You would carry a small clutch, or dainty shoulder pochette. If you're traveling, you would want a bag that can carry everything you need plus more, one that is lightweight and neutral. Going out with friends for a night on the town and need to add a pop of color to your wardrobe? A colorful bright cross body purse would be your best friend! How many black or brown bags do we really need Probably only one of each, but it's always a great idea to own a bag in quite a few different colors such as black, brown, red, white, navy, and even a bag with several colors in one such as a floral print or a multi-color bag such as a Louis Vuitton Murakami design. 
Comfort and Size

– One bag can't always carry what we need on a daily basis. There are times where we need to carry so many items in one bag, that we can't seem to zip it up closed and then there are times were we have such a huge bag, and little items inside. Our bags are either eating our belongings, or our items are falling out. This is why we need a variety of sizes and style to accommodate for our everyday needs. Comfort is also a major factor when it comes to the amount of handbags women own. Shoulder bags, clutches, and cross body bags are just a few of the types of bags that are carried differently. Clutches usually have no handle and are held with our hands constantly, which can be tired-some. A shoulder bag which is weighting down on our shoulders, depending upon how heavy our bag is, can put pressure on our shoulders and cause numerous aches and pains. A cross body bag is awesome because it crosses over our chest, allowing for even comfort levels, however not all bags have the ability to be worn cross body style. A cross body bag can also be a pain in the neck, especially when your being active and have to constantly readjust your bag to stay at your side. There are so many styles of bags and owning different styles gives you the option to feel different comfort levels. 
I guess you can say it's not a bag thing that we own so many handbags, as long as they are all being used at some point in our lifetime. For those bags that aren't ever being worn, why not make money off of them and sell them for cash? Majority of luxury designer handbags hold their resale value, so if you were to sell your unused handbag to a reputable boutique such as SellYourHandbag, you could get paid top dollar for those bags and use that cash to buy a new bag that will cover all three of the reasons why we own so many handbags! =)
Related articles