The Hottest Pre-Owned Chanel Handbags & Accessories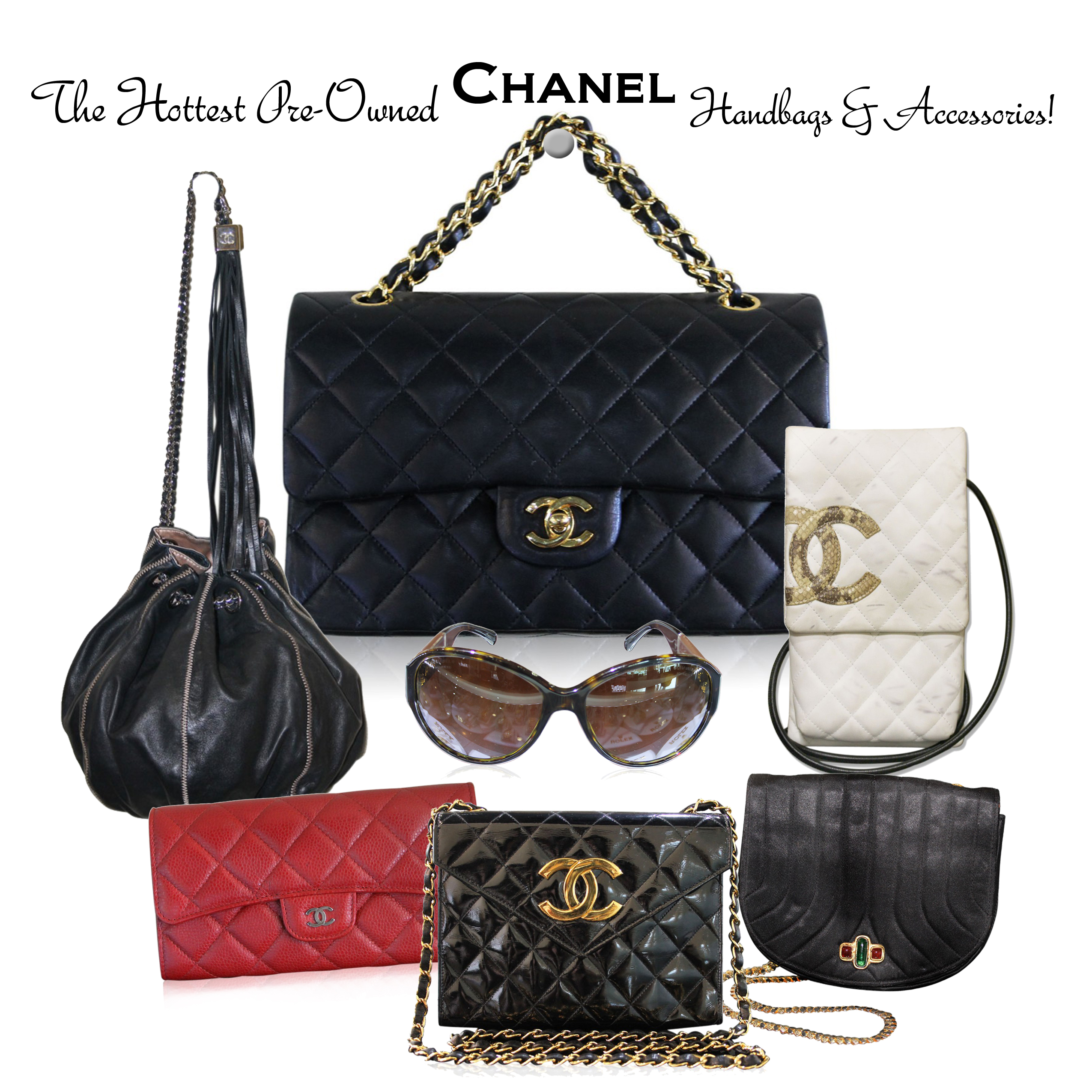 Look no further for your pre-owned Chanel handbags. We've got you covered! Why spend fortunes on luxury designer handbags when you can own a pre-owned one in almost new condition for nearly half of the retail price! Luxury designer brand handbags are similar to Rolex watches, as they keep their value over time and if kept in excellent condition, can be worth a lot of money! Start investing in pre-owned handbags, especially from Chanel. Vintage Chanel handbags NEVER go out of style and are still to this day worth a high price. Buying a pre-owned Chanel handbag will not only make you one of the most fashionable gals in town, it will also benefit you in the future if you ever decide to sell your Chanel handbag. Pre-owned luxury designer handbags as well as luxury pre-owned designer accessories such as sunglasses and jewelry are the best way to go when you want to live in luxury on a budget. A pair of Chanel sunglasses brand new can cost nearly $795.00, however those same pair of sunglasses pre-owned, barely worn in a box with authenticated papers could cost you only $250.00! Can you imagine the money you could save by buying pre-owned designer goods?
Purchasing pre-owned should never be frowned upon, especially if the handbag or accessory you want to purchase is in great condition and is authentic. Authenticity is key, and knowing you're purchasing a true genuine Chanel handbag or accessory at such a fantastic price is as grand as seeing Santa Claus for the first time as a child. If you've found a pre-owned Chanel handbag that you're interested in, make sure it has a legit date code. Box and papers with authenticity card also help when making your decision. A true re-seller of pre-owned luxury designer handbags can and will guarantee their authenticity for each and every one of their goods they are selling, so researching well-trusted boutiques and resellers will also save you time and money knowing that you are purchasing a genuine designer product.
Take a look at some of these amazing pre-owned Chanel handbags and accessories, all authenticated and for sale at way less then the original retail price!
Below is a Chanel Red Caviar Wallet Clutch in excellent condition that comes with original box, and authenticity card. This pre-owned Chanel wallet looks as good as new, and has almost no imperfections on the exterior or interior. The wallet contains six card holders, four dollar bill compartments, and one small compartment with a snap closure for loose change. Want to know more information on this pre-owned Chanel clutch, then click on the image to read a detailed description and price.
These very fashionable and stunning Chanel 714/T5 Logo Tortoise Shell sunglasses are also a hot pre-owned accessory at an amazing price! These sunglasses are also in excellent condition and come with original Chanel box, papers, a dust bag and Chanel sunglasses case to keep your new shades in good condition. These shades has polarized lenses and round curved frames that will hug the contour of your face. These sunglasses have class and sophistication with their beautiful Tortoise shell print around the frames and sides. Interested in these beauties? Click on the images to find detailed information and price.
Looking for that perfect year round Chanel handbag that will go with every outfit and has that certain classy, sophisticated style that you're looking for? Well look no further because this beautiful Chanel Patent Leather GHW Chain Crossbody vintage shoulder bag is perfect for you! This pre-owned Chanel cross body shoulder bag is not only authentic, it comes with an original Chanel dust bag, and is in excellent condition! This Chanel bag is a classic that will never go out of style and can be worn for almost any occasion! It's petite, well structured and being sold at an amazing price that you just won't believe! If this bag makes you feel all warm and fuzzy inside, then click on the images to read more about the description and check out the price!
Check out more amazing pre-owned Chanel handbags and accessories on our website, and be sure to check back daily as new accessories are always added!
Related articles