Tote Take Down: Celine Phantom Vs. Prada East West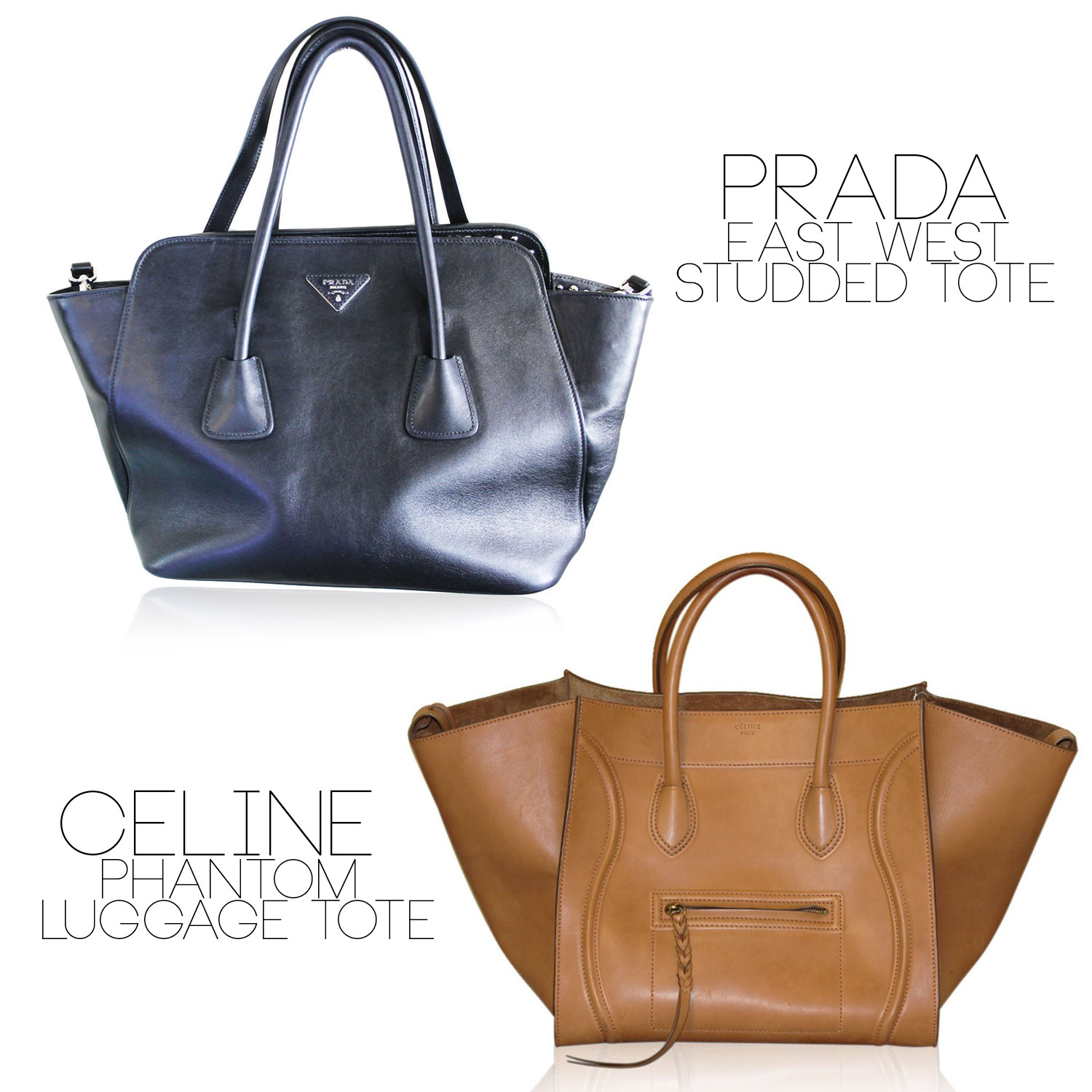 It's a total "Tote Take Down! " today and we're here battling between two iconic luxury designer handbags; the Celine Phantom Luggage tote and the Prada East West Studded tote! These two gorgeous totes are similar in structure and design, yet different in so many ways! You might be familiar with the Celine Phantom tote thanks to the Kardashian clan and their totes in numerous colors.
Let us not forget the Prada East West tote. Although it has not been as popular being caught in paparazzi photos with famous celebrities, this tote is by far one of the sexiest, "badass" totes around, in our opinion! Let's compare the two!
Prada East West Studded Tote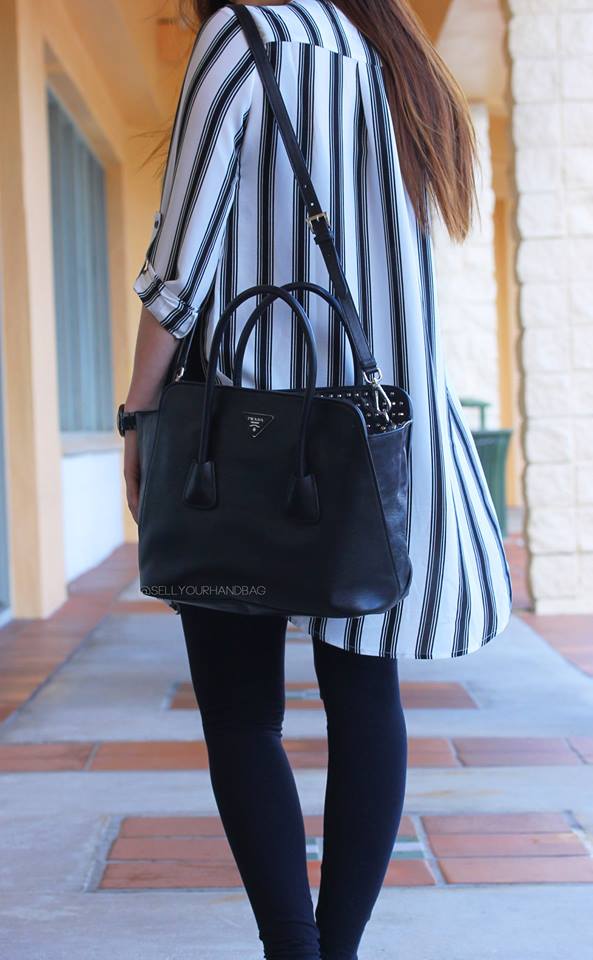 Structure: Designed with a soft black lambskin leather, this tote was created in one specific design and color scheme. The black and red mix takes this bag to new heights with massive sex appeal, and let's not forget the stud accents. With a similar design to the Celine Phantom, this bag has the "wing-like" sides with extend outwards to create a larger tote appearance and can be pushed inside to allow a small tote look.
Dimensions: The East West Tote measures approximately 17" x 10.5" x 6" with two types of handles. The rolled handles have a shoulder drop of 5.5 inches while a detachable adjustable shoulder strap has a maximum drop of 19 inches. This is what instantly sets this bag apart from the Celine. The Phantom does not have the adjustable, detachable shoulder strap.
Storage: Unlike the Phantom, the Prada does not have the front pocket zipper, but that's perfectly fine because the interior is huge! With a deep red leather interior with two small zipper compartments and one small pocket, this has plenty of storage for everything you need during the day. This East West tote has more of an oval circumference rather than the square design of the Celine.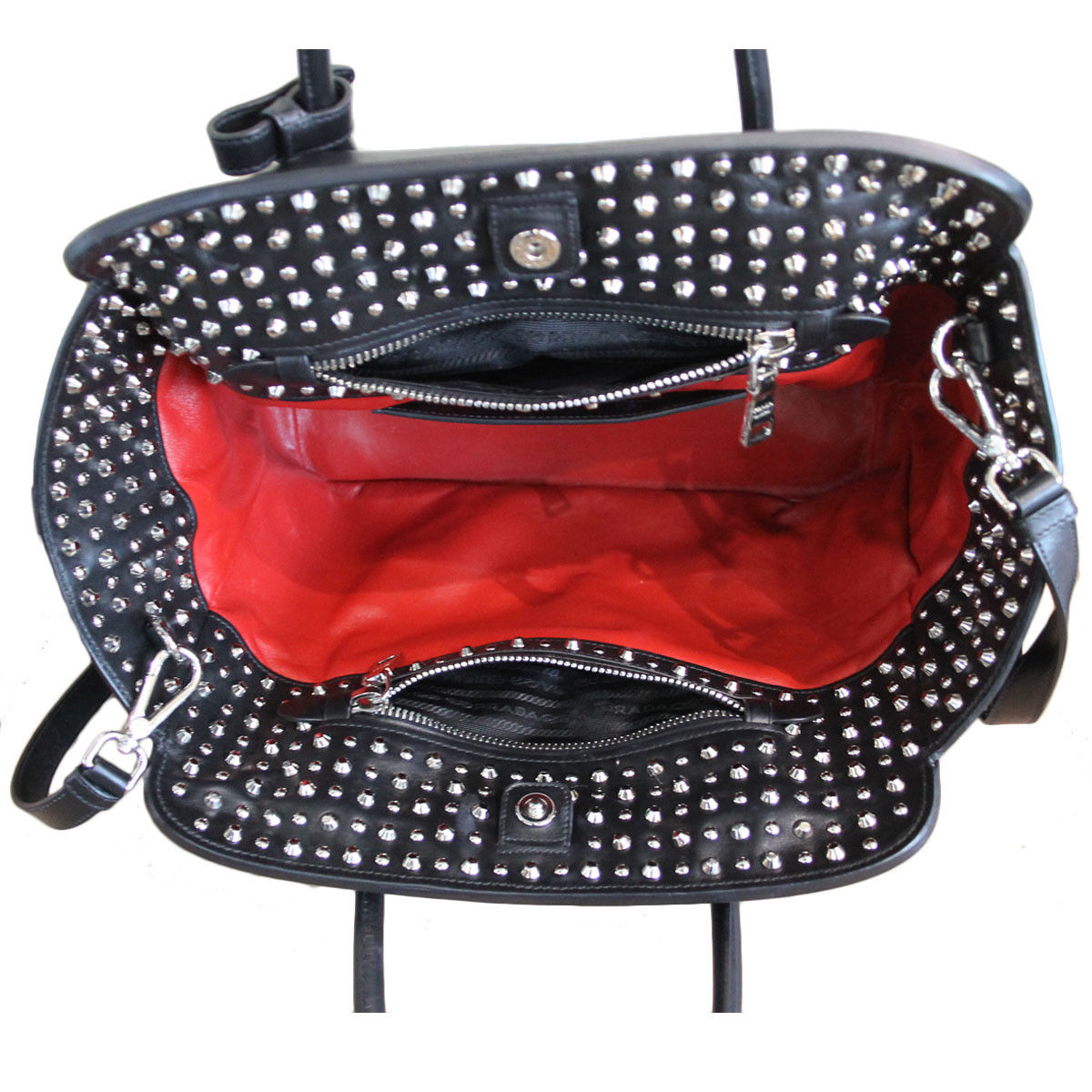 Detail: Though Prada sticks to their chic simple lines, this East West tote has some radical studded accents within the inside top trim of the bag. The silver tone hardware adds rockin' flavor to the tote as well. The soft lambskin leather has a light sheen to the fabric and a soft smooth feel to touch. 
Celine Phantom Luggage Tote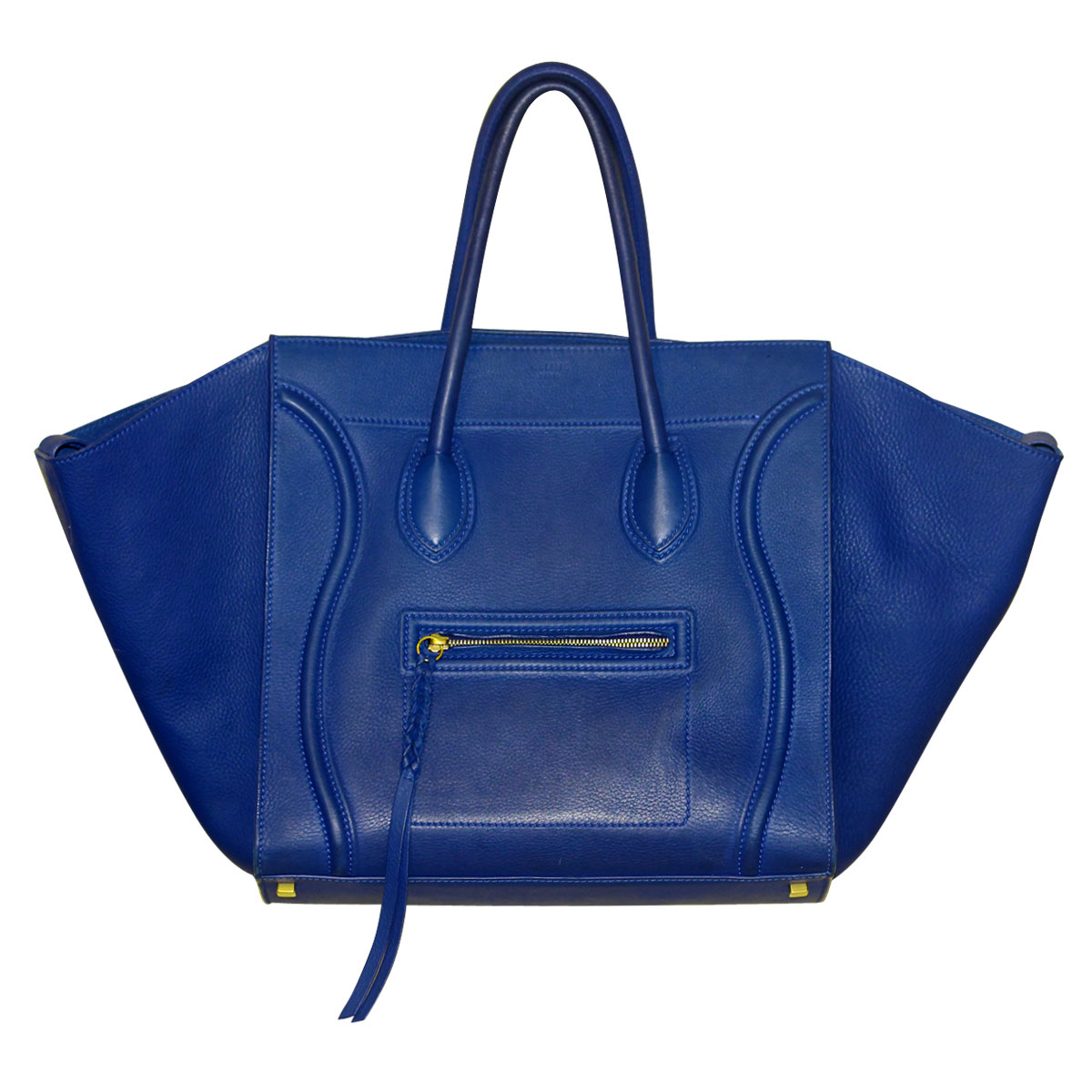 Structure: A structured square solid tote, the Celine Phantom expands its' wings like a bat and soars! The Celine is a bit heavier than the Prada East West, yet its' leather is also thicker and more sturdy than that of the Prada. The soft lambskin on the Prada bag is prone to scratches and scuff marks, while the leather on this Celine can withstand wear a little better. The wings of this bag expand slightly more than that of the East West as well. 
Dimensions: This particular Phantom has dimensions of 13″ x 12″ x 14″ which is fairly large in depth and width than that of the Prada. The width is measured with wings closed, so you can imagine the wingspan once opened. The Celine tote has a shoulder drop of 8 inches, which sits comfortably underneath your arm.
Storage: As mentioned earlier, the Celine has a small zipper compartment in the front of the bag while inside, there isn't quite as many compartments as the Prada tote, however there is one small zipper compartment on the side of the bag. With a square structural design, this Prada has a very deep interior, perfect to carry your belongings safely.
Detail: Curved lines and stitching, elongated zipped pulls and interior straps to close the wings are just a few of the details in this Celine that set it apart from most totes. Along with the structure and design, the interior suede lining makes this bag more luxurious than the red leather of the Prada East West.
Between the two bags, it's a difficult decision to see who wins the battle of the totes; so let's just call it a DRAW! Do you own a Celine Phantom or a Prada East West tote bag? Do you know how much your gently worn tote bags are worth? THEY ARE WORTH CASH BABY! SellYourHandbag in Boca Raton, Florida buys pre-owned luxury designer handbags for cash on the spot. They offer the highest paid premiums for gently worn handbags purchased within the last few years with original receipt, box and authenticity cards. It's perfectly find if you don't like to keep the original box or receipt, they still pay top dollar for your bags! Selling your bags have never been easier! You can upload pictures of your handbags right on their website and submit your personal information to receive a free consultation and quote for your bag! It doesn't hurt to give it a try! There's cash in your closet, so clean it out and make some money! Currently, SellYourHandbag is in the market to buy Hermes, Celine, Prada, Louis Vuitton, Chanel, Chloe, and Gucci handbags! They also buy accessories from luxury designers so if you're not wearing it, sell it!
Related articles