Which Louis Vuitton Neverfull Is Right For YOU?
It's TOTE season here down in South Florida and we're obsessing over the all too famous Louis Vuitton Neverfull tote! It's one of our favorites and with three different sizes to choose from, three different color schemes, and three different patterns to choose from, this tote is just getting more and more… AWESOME!
How do you know which Neverfull is right for you? Well not only does it come down to which color, size and pattern you prefer, it also comes down to what you carry, and the fit of the tote bag under your arms.
With three sizes to choose from you've got options! Louis Vuitton created the Neverfull PM, MM and GM, which stand for Petite, Medium and Grande (large). Along with the size options, they invited the famous Monogram print, Damier print, and now the Epi Leather print to the Neverfull clan!
If you like big totes that can carry your wallet, make up case, cell phone, tablet, laptop, small dog, baby diapers, an extra change of clothes or flats for when you can't take the pain from your high-heel..then the Louis Vuitton Neverfull GM is perfect for you! All three sizes of the Neverfull are lightweight  with adjustable straps on the sides which allow you to sinch the sides in for a smaller feel. The GM is a practical size, and is great for a tall woman. It sits comfortably under your arms and rests by your hips with a deep interior and very large pocket on the inside for hidden storage.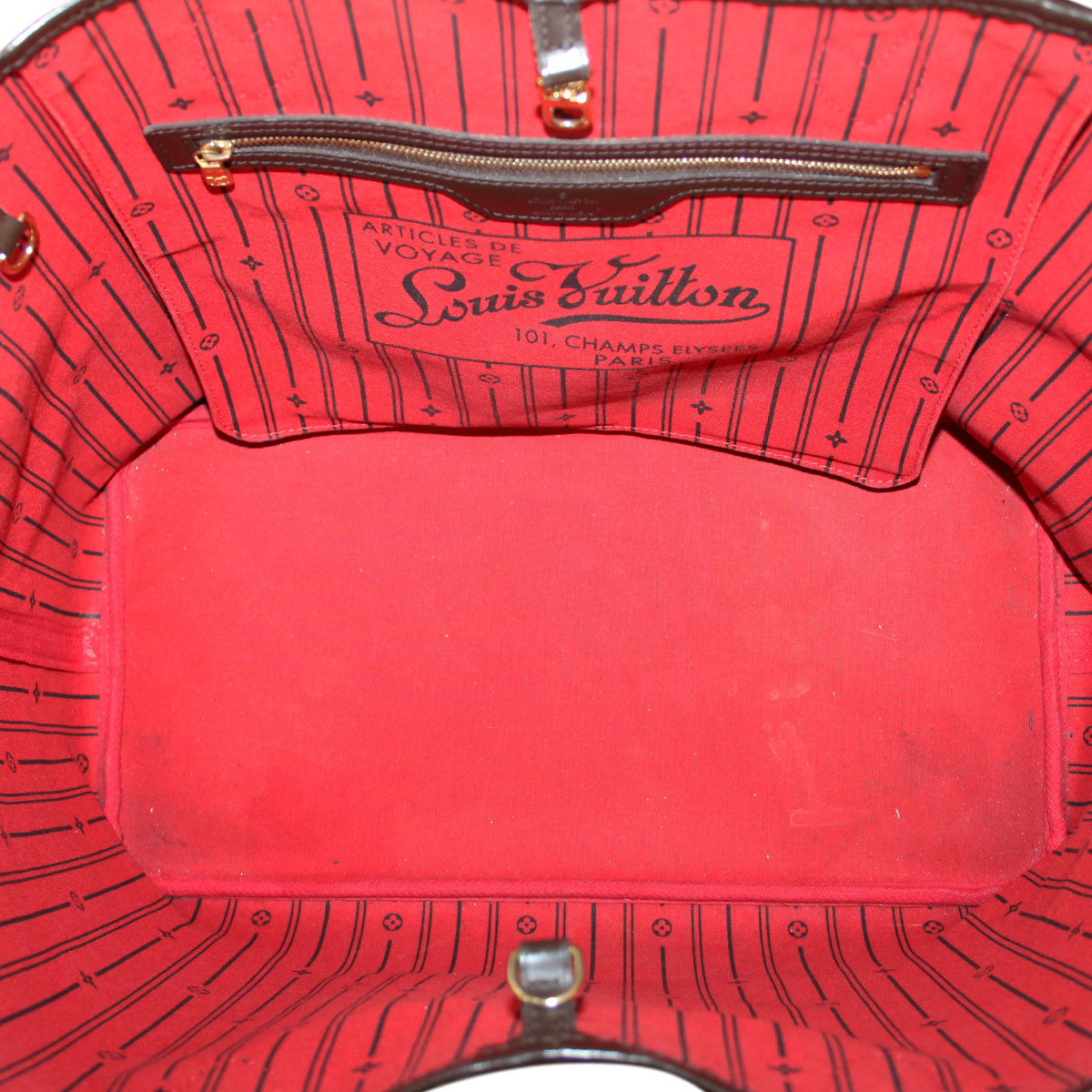 Now if you're not a fan of the large wide tote, then the MM or PM might be more of interest for you. Both can carry your beach towel, sunblock, wallet, make up case, cell phone, and a few bottles of water for those hot and sunny days! Both bags have a deep interior with canvas lining which can easily be cleaned if stains occur. It really all depends on the comfort and size that you need to carry everything you need. These totes are also perfect for grocery shopping! Running to the store for some quick milk and eggs, maybe even a protein bar? Say no to the plastic or brown bags, and stuff your Neverfull!
If you've picked out the perfect comfort level for you, whether it's the PM, MM or GM, your next decision would be the print! The newest edition to the Neverfull collection is this gorgeous Red Epi Leather Neverfull with attached pochette! This beautiful tote has such a luscious bright red that will attract any ones eyes to you!
The beautiful and neutral Damier Azur is light on color, and weight! This tote looks great with a pair of jeans and a tank top! It's the all around mom-tote, the bring-me-to-school tote, and the workaholic tote!
Whether you love the monogram look or the Damier Ebene design, the dark brown and natural tan leather colors are the "norm" of Louis Vuitton! This color scheme looks amazing with the bright red pin-stripe interior! Classy, sophisticated, and city sleek, no matter which tote you love, you're assured the best quality, comfort and style! So, which one is right for you?
Related articles