Chanel Caviar vs. Chanel Lambskin
Chanel Caviar and Chanel Lambskin are two iconic staples that have grasped much attention from Chanel fans and fashionistas worldwide. Chanel has reigned in the fashion industry for using the highest quality leathers, which is why their bags and accessories are so luxurious.  Whether used in the timeless flap bag or in a Chanel wallet, both the Caviar and Lambskin leathers have both pros and cons when it comes to durability, style, and care.
Let's begin with Chanel's beautiful Lambskin as shown below in this amazing Chanel Black Lambskin Cut Out Flap Bag with thick Gold Hardware. You'll notice how soft, and delicate the lambskin looks with its' light sheen and solid color. The gorgeous thick gold tone hardware gives this Chanel bag even more added luxury. This specific cut out flap bag is not like your usual classic flap. With one small thick chain handle, and a full length shoulder strap, this multi-strap bag has a unique cut out shape with a second flap on the inside and two separate compartments for storage. Learn more about the pros and cons of Lambskin leather below.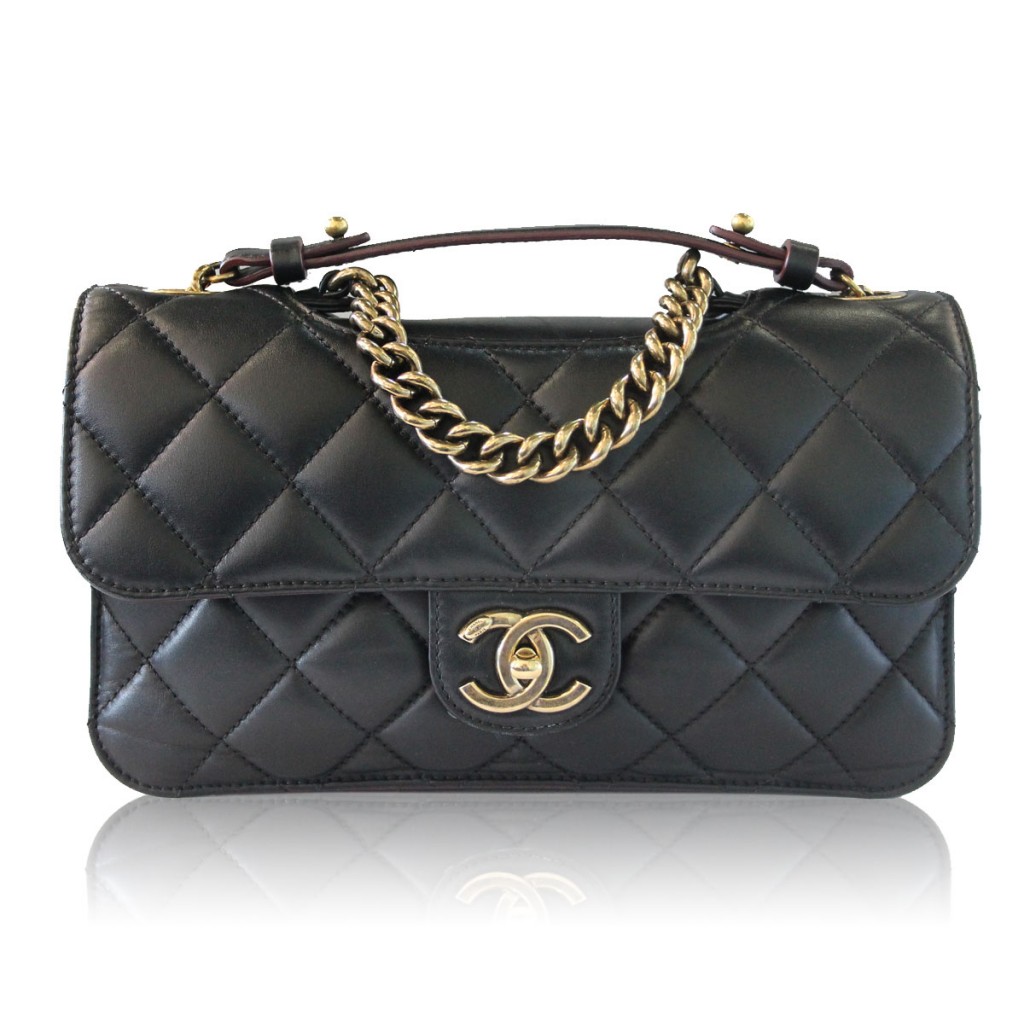 The Pros of Lambskin
1. Soft Texture: Unlike the Caviar leather, Lambskin has a soft smooth textile which feels almost "butter-like". It is the softest leather on the market.
2. A Light Natural Shine: Lambskin has a beautiful natural light sheen to the leather which is not too harsh on the eyes unlike a Patent Leather.
3. Fragile: It requires the utmost care.
4. There is No Discernible Pattern: A manufacturer does not have to worry about matching up the patterns because lambskin is always a solid color.
5. Lightweight: Unlike Caviar, Lambskin is thinner, and lighter in weight, which allows for the whole bag to weight less than one created in Caviar. For someone who likes to carry many items in your bag, a lambskin bag might be a better option.
6. Resale: Chanel Lambskin handbags have a high re-sale value due to the highest quality leather used for each bag. Along with the brand Chanel, the leather plays a major role in the resale value for any Lambskin bag because of it's delicate nature.
The Cons of Lambskin
1. Delicate & Fragile: Because Lambskin is so delicate, it is prone to being easily scratched, or scuffed and can absorb liquids, and lotions easily. Its' delicate nature does not lend well for heavy or daily use.
2. Wear and Age: Lambskin leather wears with age. If you own a vintage Chanel flap bag with lambskin leather, you will notice many creases and even softer leather spots throughout the bag.
3. Care: Caring for a Lambskin bag is much different than Caviar. In order to remove a stain, one must use only a very soft cloth, and warm water. Using chemicals can damage the lambskin, and discolor it. Keeping your unworn lambskin bag in a dust bag and in a cooled controlled environment is best to avoid harmful sunlight rays and dust.
As we shift over to Caviar leather, you will begin to notice the subtle differences between the two luxurious leathers as well as some similarities. Take a look at the gorgeous texture of this Chanel Grand Shopper Black Caviar tote bag.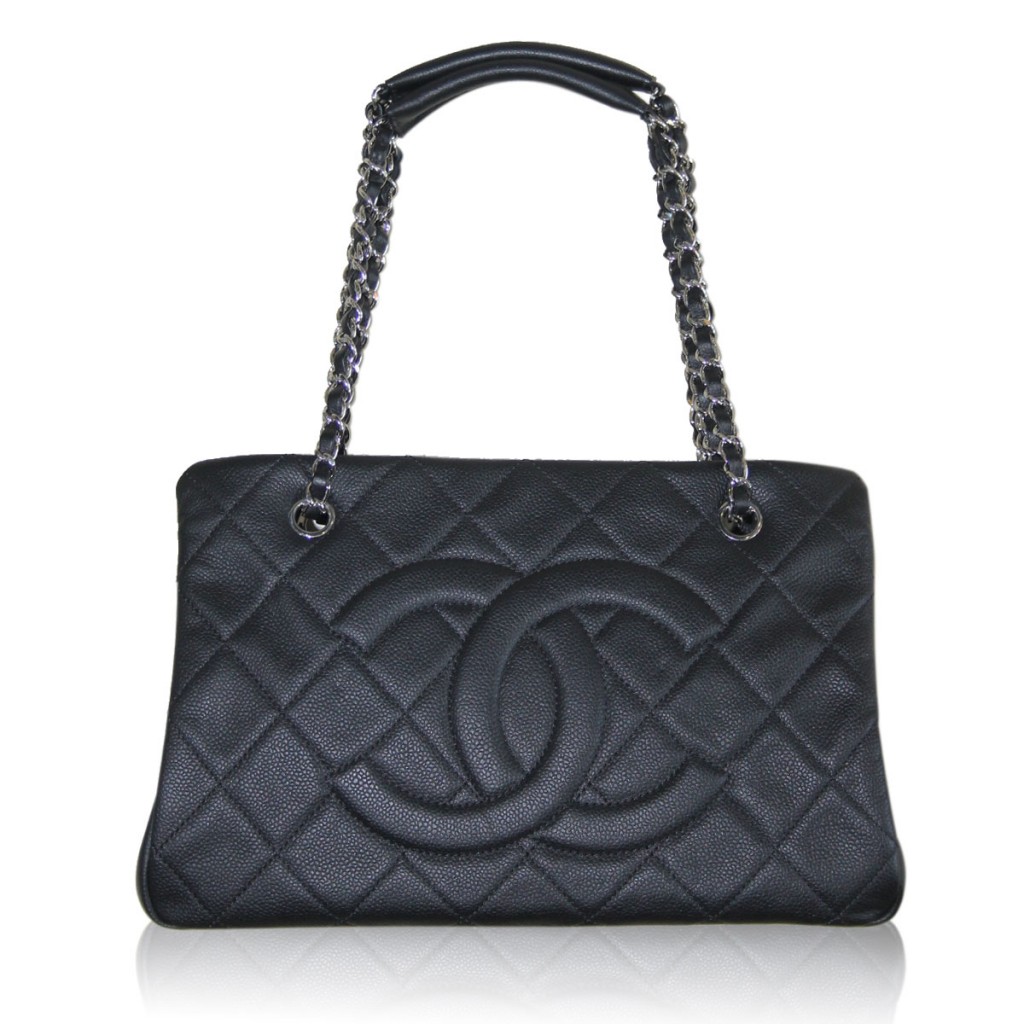 Pros of Caviar Leather
1. Texture: Caviar has a "pebbled" look texture which is slightly rough to the touch which has become very popular in the fashion industry. Due to it's texture, scratches are less visible in Caviar leather.
2. Durability: Caviar is thicker, and more durable than Lambskin. It can withstand scratches and wear more than lambskin can. Caviar is great for everyday use.
3. Plastic-like light Sheen: Caviar has more of a sheen to it's fabric than lambskin, however less than patent leather. It is made from calfskin with grains which gives this pebbled texture a beautiful light sheen.
4. Care: It is easier to care for a Caviar Chanel bag because of it's strength in the leather and durability. It is still important to use a soft cloth when dealing with stains on Caviar leather, however warm water and a light soap can be used to remove stains. Avoid rubbing the texture too hard.
Cons of Caviar Leather
1. Weight: Caviar is heavier than Lambskin which could effect your decision to purchase a Caviar bag vs. a Lambskin bag depending upon the amount of essentials you carry in your bag.
2. Might Look Cheap: Although Caviar is considered a calfskin leather with grain, it can come off looking cheap due to it's "plastic-like" light sheen compared to the smooth, duller Lambskin.
3. Resale: Caviar leather might not have a high re-sale compared to Lambskin leather. Chanel handbags have a high resale alone due to the brand, however a lambskin bag will re-sell higher than a Caviar handbag.
4. Texture/Pattern: If the Caviar is scuffed or scratched, the texture will be compromised and visibly worn off. This can affect the look of the bag.
If you've been searching around for that perfect Chanel bag yet can't decide which direction to go, lambskin or caviar, be sure to keep these pros and cons in mind. Each leather benefits more than the other in certain areas. It's all person preference and how you will wear the bag. Taking the correct care for your bag can determine how well it will last in the good condition. If you're ever decided to sell your Chanel flap bags, Caviar or Lambskin, sell them for cash. They are worth more than you think, vintage or new, and SellYourHandbag of Boca Raton, Florida will pay TOP DOLLAR for your authentic pre-owned Chanel bags.
Related articles