Sarah Jessica Parker Designs Handbags for Fendi
Sex and the City star Sarah Jessica Parker teamed up with handbag designer Fendi to create a collection of five beautiful handbags that will benefit the Brain Trauma Foundation. The collaboration with SJP also included celebrities such as Rihanna, Rachel Feinstein, Jourdan Dunn, and Leandra Medine; all of which came together to help mark the official inauguration of the brand's newest flagship on Madison Avenue in New York.
Fendi has asked these five powerful celebrities to take part in the design process and recreate a new 3Baguette handbag. The 3Baguette is a line that Fendi launched at the end of 2014, which interprets structured lines, and uses the FF logo as a locking mechanism.
Fendi's chairman and chief executive officer Pietro Beccari explains that the celebrities "had free rein, choosing their favorite colors, favoring their own personal tastes. It also shows that nothing is impossible with the incredible artisans at Fendi." The bags are to be unveiled at a cocktail party at the newest flagship store on Madison Avenue on Feb. 13 which will be hosted by Karl Lagerfeld, Silvia Venturini Fendi and Pietro Beccari. The bags will be displayed from February 13th-March 13th where all proceeds from each bag will be donated to a charitable organization picked by each one of the five celebrities.

Here, Jessica Parker and Silvia Venturini Fendi collaborate to create a version of the 3Baguette. Her bag consists of metallic-treated leather and accented with graphic color-block panels of black, violet, white, and deep azure, along with the classic Fendi buckle.
SJP's bag was the first to surface and has gained much anticipation to view at the opening of the new flagship Fendi store. Fendi and Sarah Jessica Parker have a long fashion history together. Fendi has appeared in numerous episodes of Sex and the City and has gained a much greater fashion credibility from their appearances.
Apart from the Sex and the City episodes, Sarah Jessica Parker also has her own personal collection of Fendi handbags such as this Fendi 2Jours tote back with her initials printed on the luggage tag.
Check out our pre-owned Fendi handbags we have for less than retail! This Fendi Barley Leather and Palladium Baguette Clutch and Crossbody bag is similar to the 3Baguette that SJP and the four addition celebrities have designed. This beauty is pre-owned but looks as if it was never worn! This fascinating chic crossbody bag comes with an additional smaller shoulder strap that can be worn as a shoulder bag.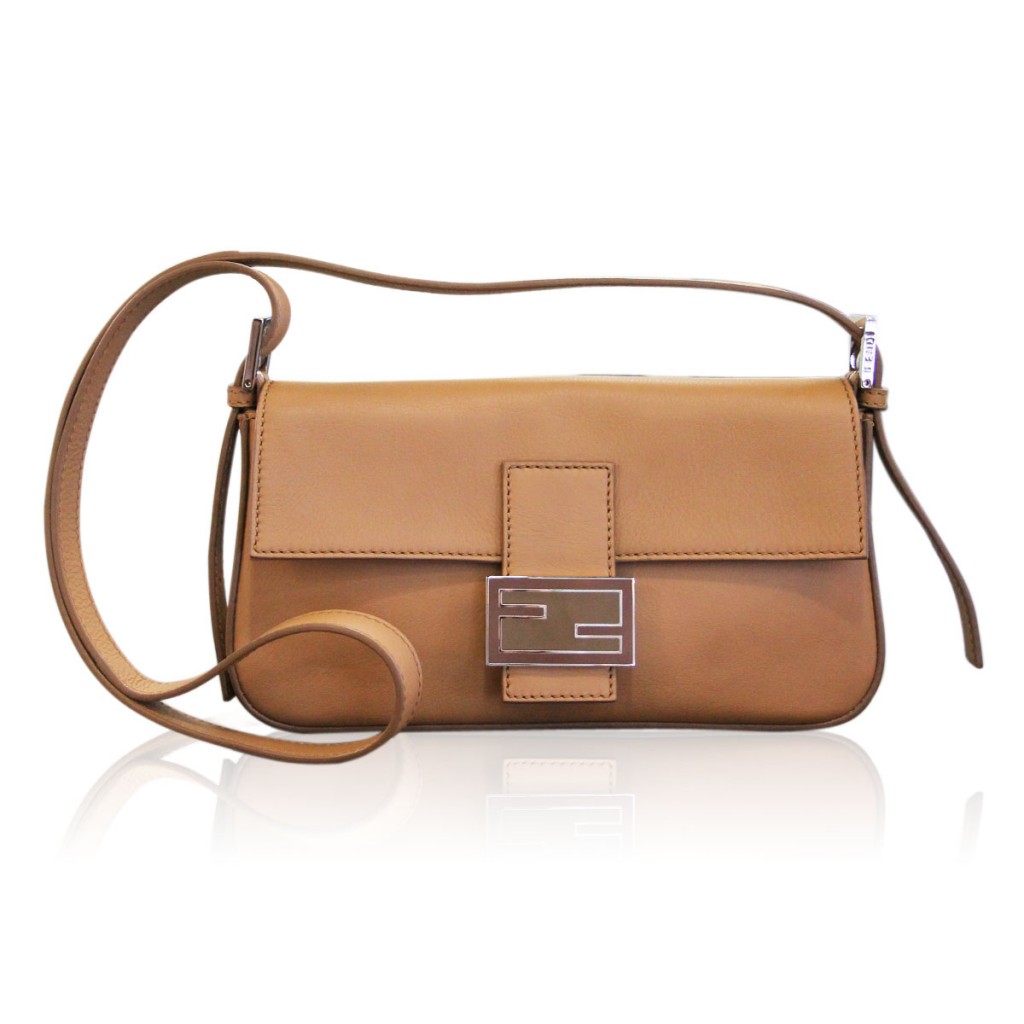 The interlocking FF logo is used as a magnetic snap closure on this bag. The structure is similar to the new 3Baguette handbags that the celebrities have designed, however this particular baguette has more curvature in its design. Looking to get rid of some clutter in your closet? Do you own designer handbags that you just never wear anymore? Have you thought about selling them for cash? SellYourHandbag is a Boca Raton based pre-owned handbag boutique that pays you CASH for your gently worn handbags. If you have handbags that were purchased within the last two years, with original receipt, dust bag and box, then you're in the zone to receive the HIGHEST paid premium! Don't have the original receipt or packaging, no problem! We still want to make you an offer that you can't refuse! Our goal is to offer YOU the best bang for your buck, while giving your handbag a second chance at being the center of attention on someone's shoulder. We accept trades and we also accept offers. Love this Fendi Barley Leather Crossbody and Clutch bag? Check it out on our website and make us an offer we can't refuse! You'll be wondering why you haven't found us sooner! We will be cash in your pocket so you can upgrade your old handbag to something chic, trendy, and awesome!
Interested in donating to on of the five charities picked by each celebrity? Be sure to check out 3baguetteauction.fendi.com. You could even bid to win one of the five 3Baguette handbags designed by one of the celebrities! Good luck!