Last Minute Valentine's Day Gifts
Still having trouble figuring out what you could get your girlfriend, wife, mother or friend for Valentine's Day? Don't fret because we've got you covered! Our fashionable, knowledgable and creative team at SellYourHandbag has put together some of the most beautiful gift ideas for the "woman who has it all already." Valentine's Day is not only a day to show your passion for another individual, or even your dog. It's a day to express how much you truly care for someone, a day to thank them for everything they have done for you in your life, and possibly your future. Did you know that more than 62% of Americans celebrate Valentine's Day by giving mushy cards, flowers, and chocolates that most ladies these days won't eat unless you happen to end a relationship with them a few months down the road. "Approximately 150 million Valentine's Day cards are exchanged annually, making Valentine's Day the second most popular card-sending holiday after Christmas." We bet you also didn't know that nearly 20% of Americans purchase jewelry as a gesture of love for V-day, and nearly 6 million people get engaged on that very day! It was said that Saint Valentine's Day was the start of bird mating season. There are many variations of the story behind Saint Valentine's Day, however the most recognized story is that of when Emperor Claudius II, of ancient Rome, decided that single men made better soldiers than those with wives and families and decided to outlaw marriage for young men. Saint Valentine, realizing the injustice of Claudius's decision, continued to perform marriages for young lovers in secret. When Valentine's actions were discovered, Claudius ordered that he be put to death. Other renditions say that Valentine was imprisoned and sent his loved one a passionate love note and signed it "From Your Valentine" before he was put to death. This phrase is still used in letters and cards today.
But throughout history, one thing remains the same, the vision to carry your love from your own heart, to someone else's. The thought of giving and pursuing love on February 14th will be an everlasting holiday and a deepened memory that will be remembered by anyone who receives a special gift from their loved one. Speaking of special gifts, if you're having difficulty finding something other than chocolates and roses, we're here to help.
Check out these beautiful pieces of designer jewelry and gently worn designer handbags. The picture below includes a gorgeous Piaget 18k White Gold Diamond Hanging Heart Pendant, and a Cartier 18k White Gold Paris Nouvelle Vague ring, and last but not least a very stylish and chic gently worn Louis Vuitton Damier Azur Zippy wallet which includes box, dust bag and original receipt! Any of these items will be absolute fascinating gifts and will without a doubt bring the biggest smile, maybe even a tear, to your loved one's face!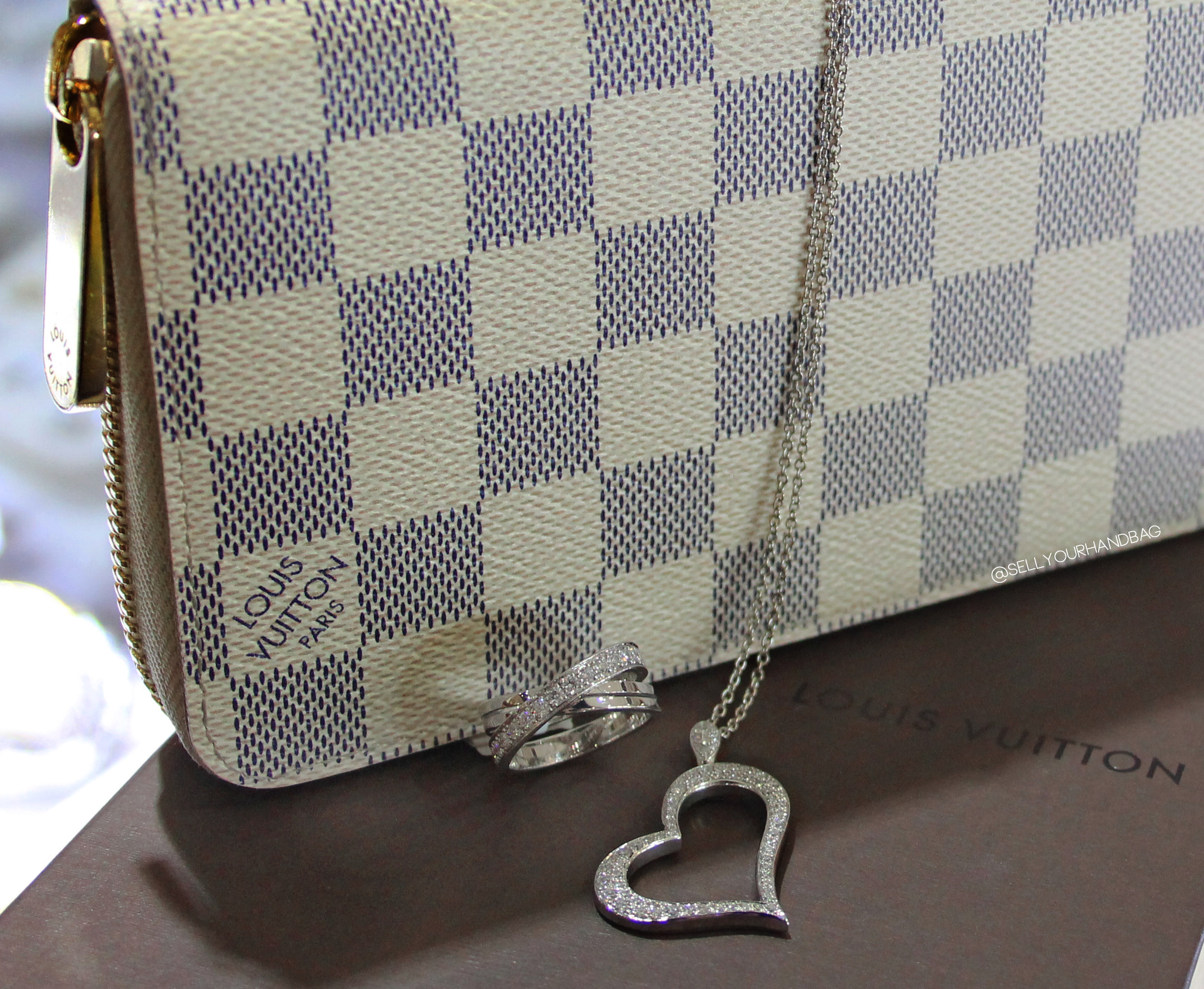 But wait…there's more!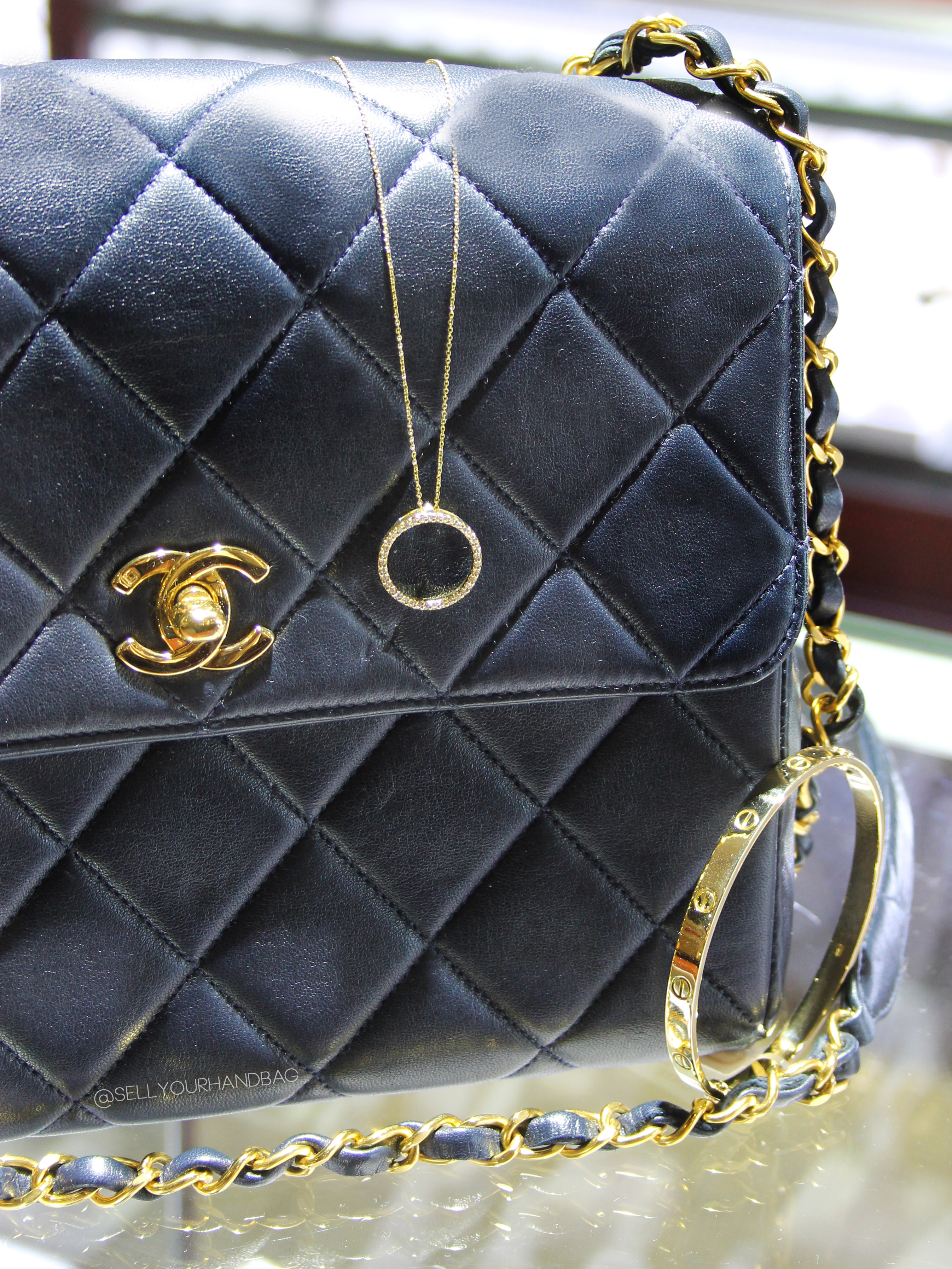 For the woman who has everything, this Chanel Navy Soft Lambskin Gold Hardware Cross Body bag is the ideal purse! Not only is this Chanel stunning with a sophisticated navy and gold color scheme, it is also way less than retail. This bag is 100% authentic Chanel, and comes with original dust bag. SellYourHandbag in Boca Raton, Florida has the largest selection of authentic gently worn designer handbags for excellent prices! Not only do we sell designer handbags and accessories, we also purchase your gently worn designer bags for cold hard cash! If you're looking to buy your loved one a special gift, or treat them to a romantic dinner for Valentine's Day but you need a little extra cash, bring your designer bags or accessories over to our Boca Raton showroom and have our knowledgable and experienced buyers make you an offer you can't refuse! If you're not local, that's no problem, we buy handbags from all of the world! Make some extra room in your closet for the new designer handbags that you're dying to buy, and why not buy them for less than retail at SellYourHandbag.com! With a safe selling experience, you'll wonder why you haven't discovered us earlier!
The Roberto Coin Circle of Life Diamond Pendant necklace hanging on the Chanel bag and the Cartier size 18 LOVE bangle bracelet on the side are two fabulous pieces of jewelry that will melt anyone's heart! The bangle is actually unisex, so ladies, why not splurge on your significant other too! Matching Cartier bangles would be an awesome and super cute idea for Valentine's Day! Raymond Lee Jewelers in Boca Raton has the largest selection of pre-owned authentic designer jewelry for way less than retail! Did we mention that they buy gold, diamonds, and accept trades! Yes, trade in your gently worn jewelry that has gone out of style for a gorgeous Chanel handbag, or this fabulous Roberto Coin necklace with much meaning behind its "Circle of Life" name! It's a great deal, and bang for your buck! Saving money and still getting high end designer jewelry and handbags couldn't be anymore perfect for Valentine's Day!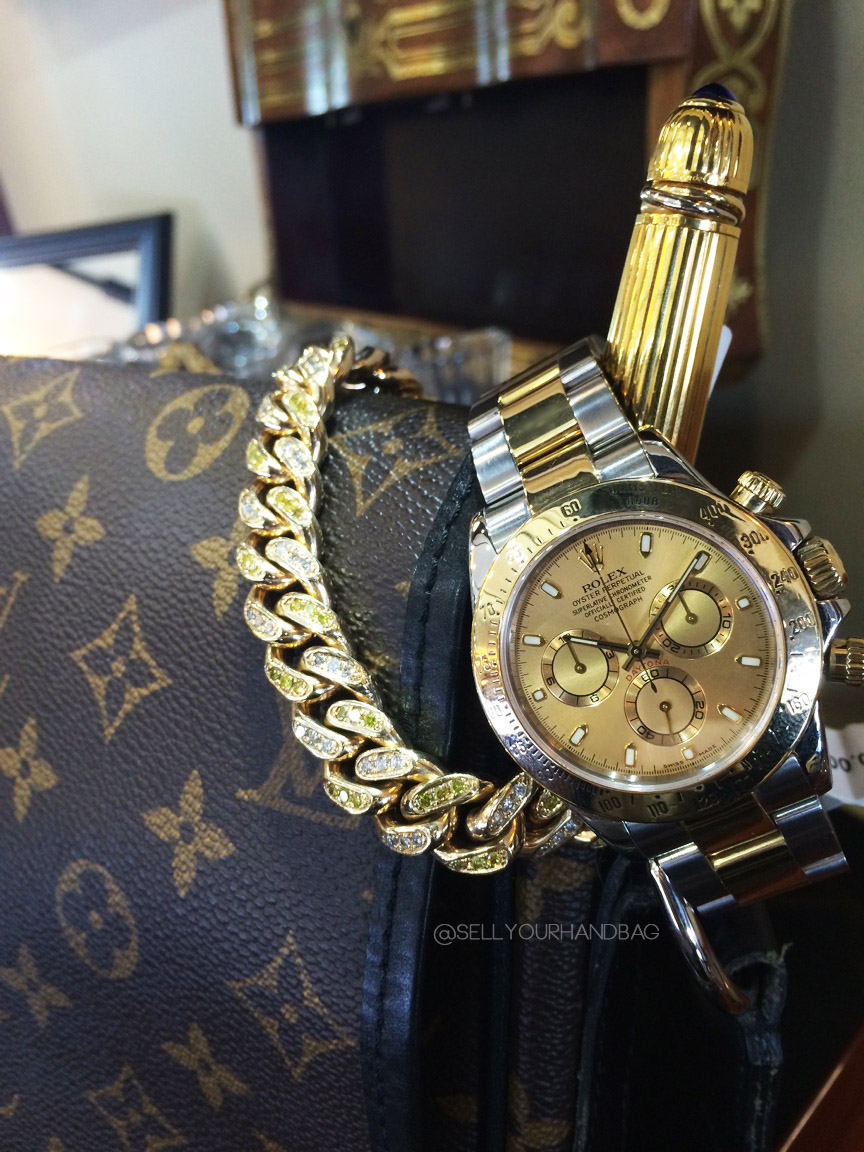 For a masculine side to the day of love, check out this dapper Louis Vuitton Macassar MM Messenger Bag. No, messenger bags are not only for women, they are quite the masculine bag indeed. This is perfect bag for the fashionable man who loves a good designer product. This bag can hold any size laptop or tablet and can be used for work, school or even play! Carry this bag with this gorgeous two tone Rolex Daytona on your wrist. Inside your LV messenger bag, keep this Cartier Pasha de Cartier Pen handy, and dazzle your friends and family with this dazzling Diamond and Yellow Diamond Cuban Link Bracelet!
Be sure to check out all of the beautiful designer handbags at SellYourHandbag.com or visit our Boca Raton showroom; as well as Raymondleejewelers.com and their huge 3000 square foot showroom in Boca Raton, Florida!