Hermes Bag Sells for An Astounding Amount at Auction!
On September 23, 2014 a fabulous Hermes handbag sold for an astounding $185,000 at Heritage Auctions in Beverly Hills, California. This 30 cm diamond Himalayan Nilo Crocodile Birkin bag contained 18k white gold hardware and 242 diamonds with a total weight of 9.84 carats! This is the second most expensive handbag to sell at auction, with the first bag reigning at $203,150, which sold at a Heritage Auction in Dallas, Texas. The shiny rouge 30 cm Porosus diamond Birkin, sold in December of 2011. The Himalayan Nilo Crocodile Birkin is so rare, that if you were to go into a Hermes retail store and ask an associate for the bag, they would look at you with a puzzled look. According to Kathleen Guzman, managing director of Heritage Auction's New York office and the auctioneer for the item, this bag is made from crocodile skin that is so light- it was almost considered albino. "Hermes raises crocodiles on its own farm, breeding them to have very light coloring. It's very hard to get skins large enough as it is..but then to search for a crocodile that has almost an albino skin is extraordinarily rare," Guzman explains. It is also said that it can take a Hermes designer one full year to create the handbag, and if any scratches or damages occur in anyway, Hermes promises to repair the flaws immediately.
Celebrities such as Victoria Beckham, who reportedly owned over $2 million worth of Hermes bags, and Kim Kardashian, who supposedly owns so many, she even uses one as her gym bag; are quite fond of the Hermes luxury brand. Don't want to break your bank with a Hermes bag like this one, then check out some of our pre-owned Hermes handbags here!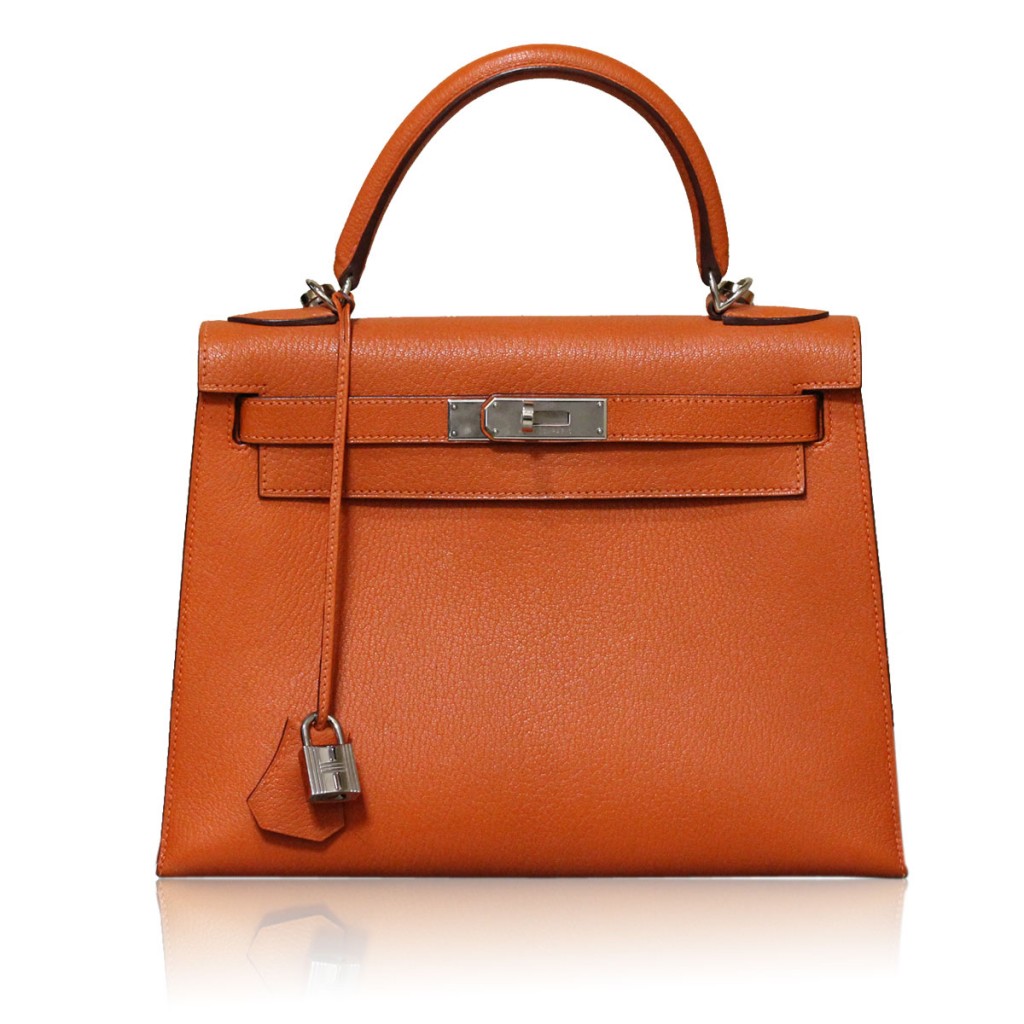 This awesome Hermes Kelly 28cm Sellier Epsom Orange handbag is perfect for the autumn season and won't break your budget! In excellent condition, this handbag has similar qualities as the Hermes Himalayan Nilo that sold at auction.
This Birkin 40cm Clemence Vert Leather Paladium Hardware handbag is another similar bag to the one sold at auction. This unique Birkin is not your typical color. This color can be described in different ways depending upon the light that is shone upon the bag. The bag can look grey, or army green. This is another wonderful color and bag for the fall season and without paying the high price, you can have this preowned Hermes bag at an affordable price!
Let's not forget that Hermes also keeps their luxury reputation high with not only their handbags, but their accessories and jewelry as wel!
 Check out sellyourhandbag.com for more Hermes handbags and accessories!
Related articles