The Perfect Holiday Handbag For You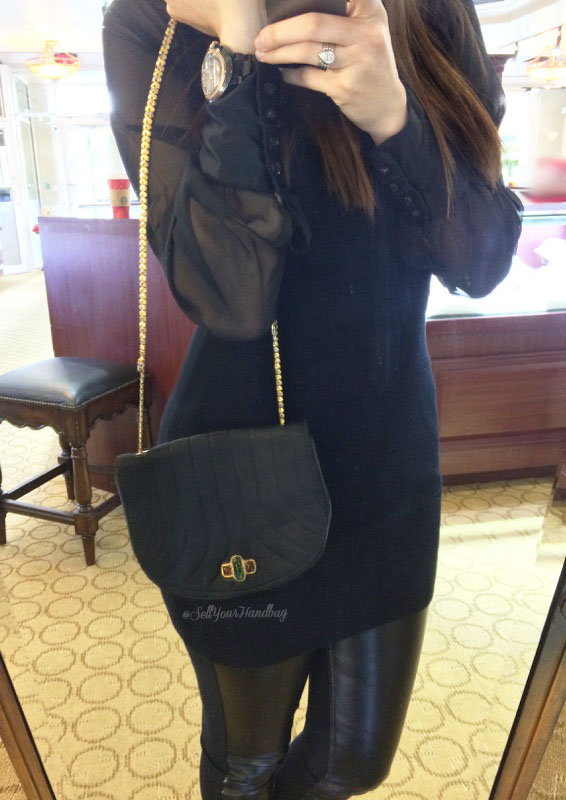 It's that time of the year again! When you have to find the perfect outfit for your festive holiday party, whether it be a work party, social party, or just a family gathering. It's hard trying to find the perfect bag for the holidays, especially when you don't necessarily want it to scream "CHRISTMAS!" Look no further, because we've got the perfect handbag for you for your special occasion! This stunning Vintage Chanel cross body shoulder bag is festive, yet subtle, classy and timeless! This is a very rare find, and we are lucky enough to share it with all of you! There are many special features on this Chanel bag, features that will make you cherish this bag even more than any handbag you've ever own.
This is the Chanel Rare Vintage Black Satin Gripoix Closure Cross Body, Shoulder Bag. This is a pre-owned, vintage and rare handbag that has been kept in great condition throughout its life. This handbag has some minor imperfections, but what do you expect from a vintage handbag? The gorgeous gold tone fancy chain shoulder strap has a signature "Chanel" logo accent on the chain. The chain has a 16.5 inch drop and can be worn over the shoulder or cross body. The black satin exterior has a unique stitching pattern which gives this bag its sophisticated look. The special feature on this bag pertains to the opening flap. The beautiful  red and green glass jewels you see are a custom designed magnetic closure hand crafted from Gripoix. Augustine Gripoix, or the House of Gripoix, is a French altelier who has been making exquisite costume jewellery for designers such as Balenciaga, Dior, Yves Saint Laurent, Marc Jacobs and most famously, Chanel. Gripoix is well known for their incredibly unique techniques that their artisans have perfected over the years, such as "pate de verre" or poured glass.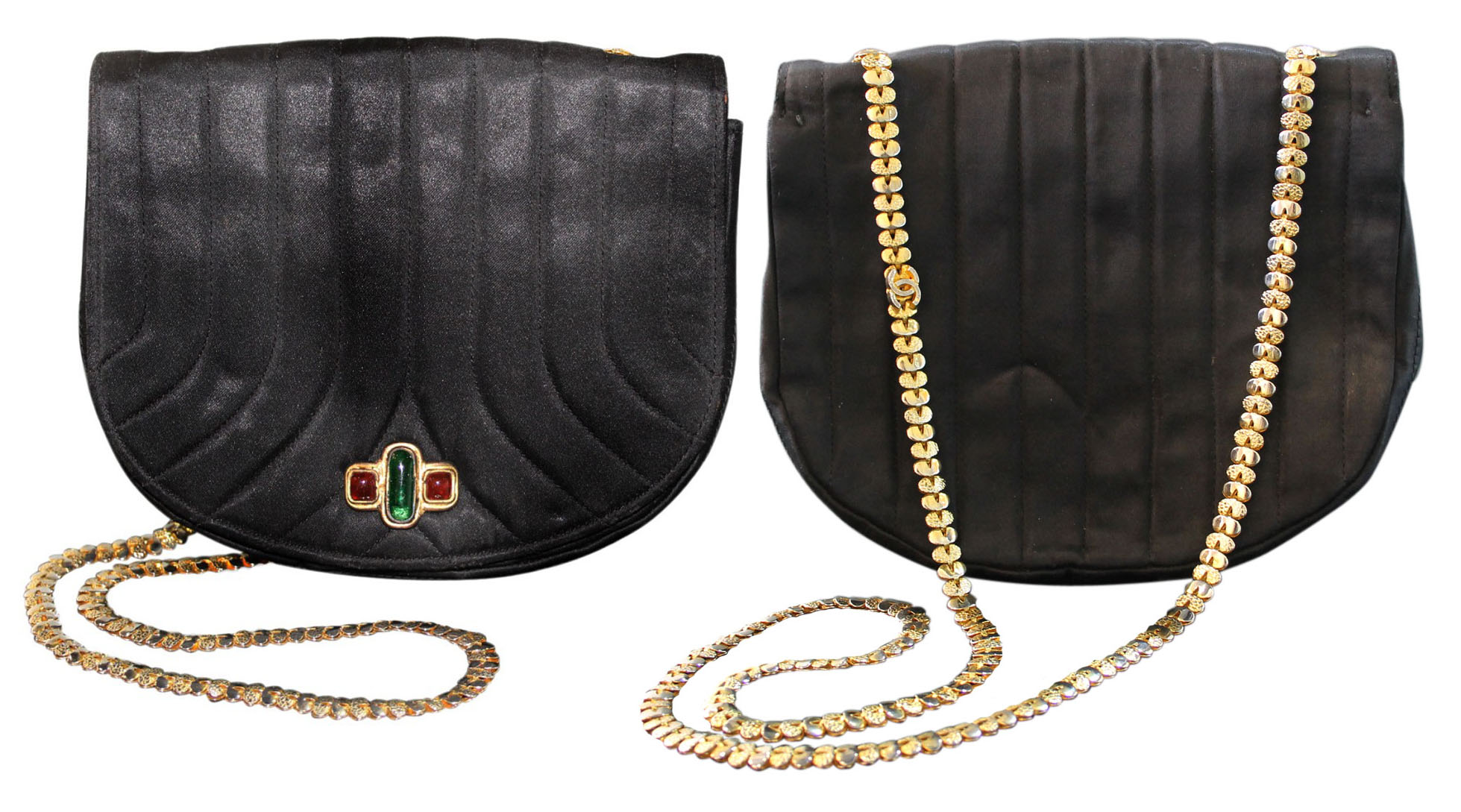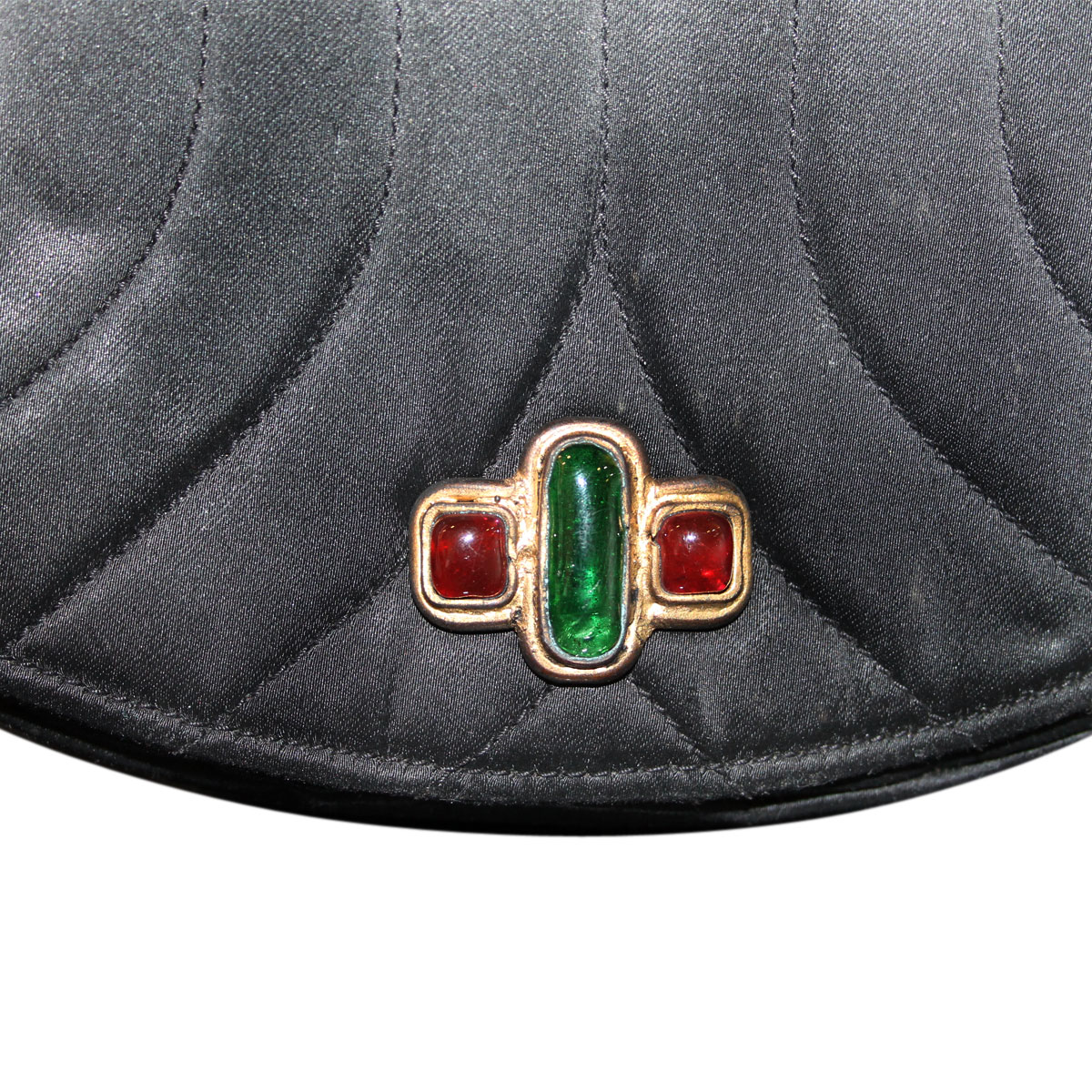 The beautiful Gripoix design you see on this Chanel bag is simple, festive, and delicate. It's the perfect bag to match any outfit of your choice! The interior of this bag is also a black satin lining that is in great condition. There is just the right amount of space for your cell phone, and wallet, maybe even your favorite lipstick. Looking to make an impression at your business holiday party, this is the bag that will accomplish that! Vintage does not always mean expensive, because this Chanel vintage bag is only $595.00! It is 100% authentic and is ready for you to wear to your festive holiday party!