How to Keep Your Louie Looking "Fresh"
Preserving the beauty of your Louis Vuitton handbag can be a difficult if you wear it daily. Depending upon what fabric your Louie is, you have to take extra precautions to take care of your bag and make sure it stays clean and free of wear. Louis Vuitton only uses the highest quality leathers and fabrics which is why it has reigned as a luxury designer brand for many years. Whether you've purchased a Louie bag brand new, or purchased a pre-owned bag, we've got the tricks to preserve the beauty and quality of your LV bag.
Keeping Your Damier or Monogram Handbags Clean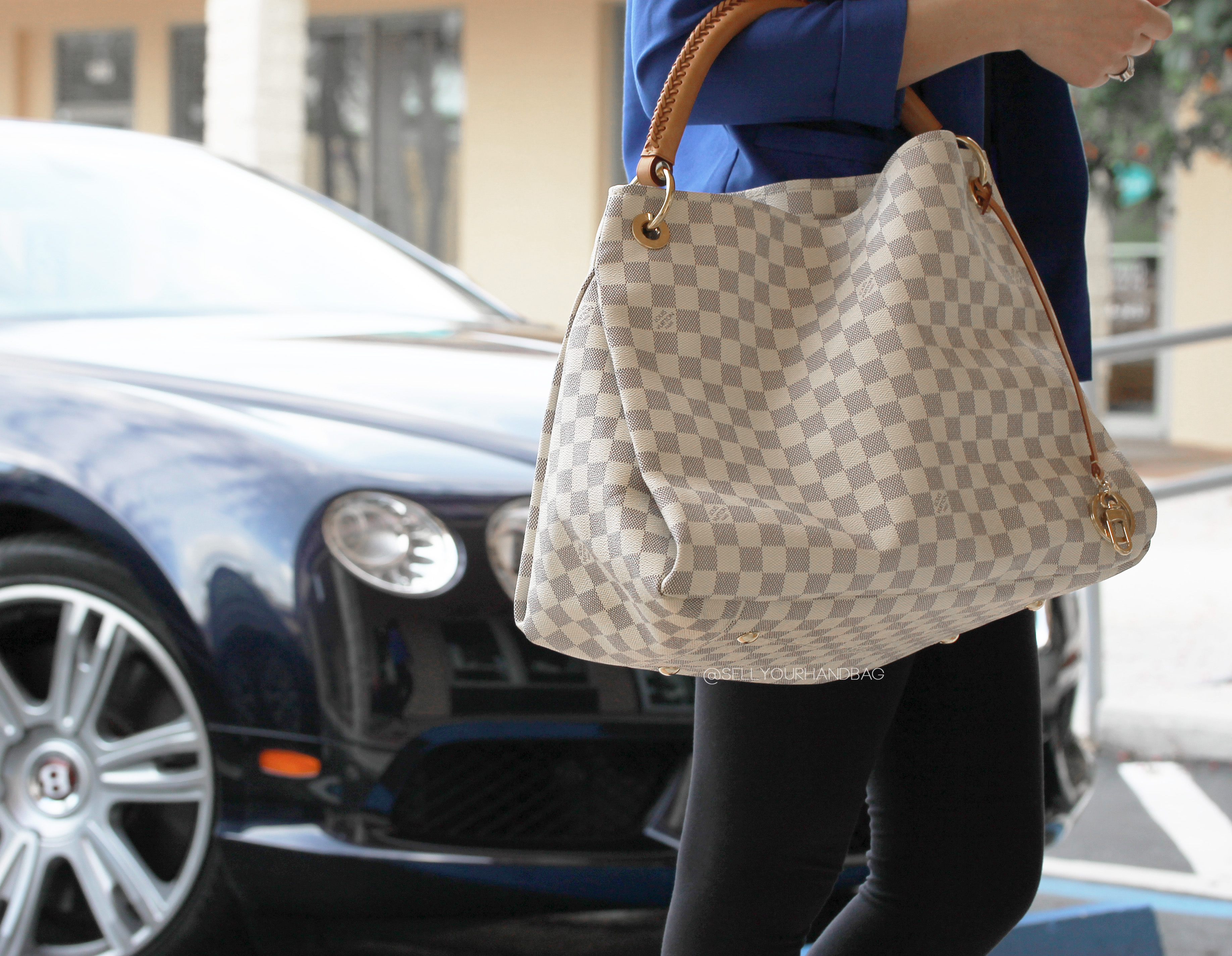 If you purchased a beautiful Damier or Monogrammed Louie, whether it is the brown or white Damier, or the Brown or multi-color Monogram, your bag most likely came with the original box, and dust bag. When not in use, it's pretty important to keep your bag enclosed in the dust bag and slipped away nicely in the box. This allows the bag to stay free of dust, and climate change. Keeping your bag stuffed away in your closet underneath your shoes, or hidden under your bed can damage the exterior canvas and will cause discoloration. If your bag was purchased pre-owned and did not come with a dust bag or box, keep your bag wrapped in a light colored cloth or sheet and store in a high shelf in your closet. Stuff some tissue paper into the bag to keep it's original shape so you don't end up with creases or cracks in the canvas or leather.
Did you know that the humidity can affect your handbag? If you live in the south, you know that the humidity can ruin just about anything, especially your hair, which is why it's important to be cautious when you wear your LV handbag. Avoid wet weather, such as snow, rain or sleep. Majority of the Damier and monogram handbags come with cowhide leather handles, and depending upon the tanning process for the leather, if wet, the leather can have "water spots" that are permanent. The canvas is usually waterproof, with a clear coating on the canvas to avoid accidental spills however it can still soak up liquids easily if not cleaned off immediately and properly.
Never use solvent! When cleaning your exterior it's extremely important to remember that your cleaning high quality canvas or leather. Using any sort of chemical can alter the appearance of your bag. Use a soft damp cloth, such as microfiber, with room temperature soapy water and ONLY wipe the canvas exterior when needed. Don't rub or wet the leather! Avoid sharp objects, hand creams, perfumes, hand sanitizers etc. All of those things can alter or discolor the leather and canvas. If you're wearing dark clothes, beware of your clothes rubbing into the canvas. Jeans for example, can cause a blue tint on your canvas if rubbed against each other constantly. Beware where you place your handbag also. Even though the bags have gold tone feet, you don't want to place your bag in spilled liquid, or other substances that you might not see until after you've placed your bag down.
Now that you've got the exterior covered. It's important to keep your interior clean as well. Depending upon the interior lining of your bag, there are different ways to keep your interior looking "fresh" and clean. If you're bag has a textile lining interior, such as a cotton-satin blend, you have to be cautious as to how you clean the lining. If your interior lining is light colored, do not use a dark colored cloth, as you will rub the dark color into the lining. This goes the same for a dark colored interior with a light colored cloth. It is best to use a similar colored cloth, so no discoloration can occur. Make up stains can sometimes be difficult to remove from lining, however if you continuously "pat" the specific spot with warm soapy water, you can remove or at least reduce the appearance of the stain. This goes for pen marks as well.
Red interior textile lining is a bit more difficult to clean, so it's best to keep the interior clean with no loose pens and be sure to apply your make up before you go into your bag, and be sure to wash your hands so no make up is rubbed into the lining. Some dark colored leathers, such as wallets, can have affects on the interior lining. Dark leather can rub against the interior and cause stains or discoloration. Not only will the leather's color rub into the lining, it can also damage the actual leather. Cleaning the interior of red lining is best when using the same steps as you would with a textile lining.
For those Louie bags with suede interior linings, it's very important to remember to avoid chemical stain remover. If you've spilled something in your suede interior, blot the fabric with a light cloth until you've soaked up the spill. Allow the stain to dry completely, using a soft brush, such as a toothbrush or an actual "suede cleaning brush" you can damped the brush in warm water, and gently rub the stain in a circular motion until you see the stain reduce or disappear. Suede should be dry cleaned, however it may be difficult to dry clean a handbag, and could become costly. Never use heat, such as a blow dryer to dry your stains because it can cause the suede to discolor, or even burn.
For those who enjoy a nice afternoon smoke, don't keep your cigarettes in your bag and don't smoke near your bag. The interior of handbags can obtain and keep the cigarette odor and it's almost impossible to remove the smell. If you must keep cigarettes in your bag, keep them in a zip-lock bag, or an enclosed cigarette pouch so the odor does not penetrate into the lining of your bag.
So there you have it. It may seem like a lot to do in order to keep your bag looking "fresh" all of the time, however, why wouldn't you want to keep nice things looking nice? In the end, if you ever decide to sell your handbag to a boutique for quick cash, you've kept it in such great condition, they can't help but offer you a high premium for your bag!