Is It A Sin to Mix and Match Designer Accessories?
Some of you may be thinking, is this girl crazy for even talking about this topic? It's something that some people LIVE by,  especially if you're a severe fashionista! If you were carrying a Louis Vuitton Neverfull, would it be a sin if your wallet was Balenciaga? Would it be such a sin if you hung an Hermes scarf from your Chanel classic flap bag? Some would say YES, this is a TOTAL SIN, SHAME ON YOU! But in fact, it's not a sin at all, you're simply enjoying the luxury of exploring different designer brands in one awesome ensemble! Your creative juices are flowing and you're finding new ways to be a true fashionista while still having your own individual style. Fashion is what ever you make it! This goes for men as well! Being poise and proper all the time with the same pattern handbag with the same pattern wallet, matched with the same pattern belt makes you seem, well, someone boring. It may have been cute and "preppy" a few years back, but we are in a new-age of fashion where what ever YOU say, GOES!
You may have spent thousands of dollars on your Hermes Birkin bag, but that doesn't necessarily mean that you must carry an Hermes wallet inside. Switching our designer wallets to match our handbag is an exhausting task to do every single time we decide to carry something different. I don't know about you, but every time I switch my purse to match an outfit, I always forget a specific credit card, or even my license in my other purse. Just the other day, I was taking a stroll into a few consignment shops checking out some awesome designer bags, and I found the perfect little clutch from Chanel that I just had to have, and when I reached into my bag to grab my wallet, I realized that my debit card was not in my wallet. Freaking out and thinking that my card had been lost, I thought to myself where did I have it last, long and behold, I left it in my other wallet; the wallet that I switched to "match" the purse I was carrying. If I had just kept everything in my original wallet and not worried about matching purse to wallet, I could have easily purchased that Chanel clutch. To my luck, when I went back later that day with my debit card in hand, the clutch was GONE! I felt like a total Doe-doe head!
If you're thinking to yourself, how can I still look "uniform" while mixing different designer accessories, well we've put together a few examples for you below!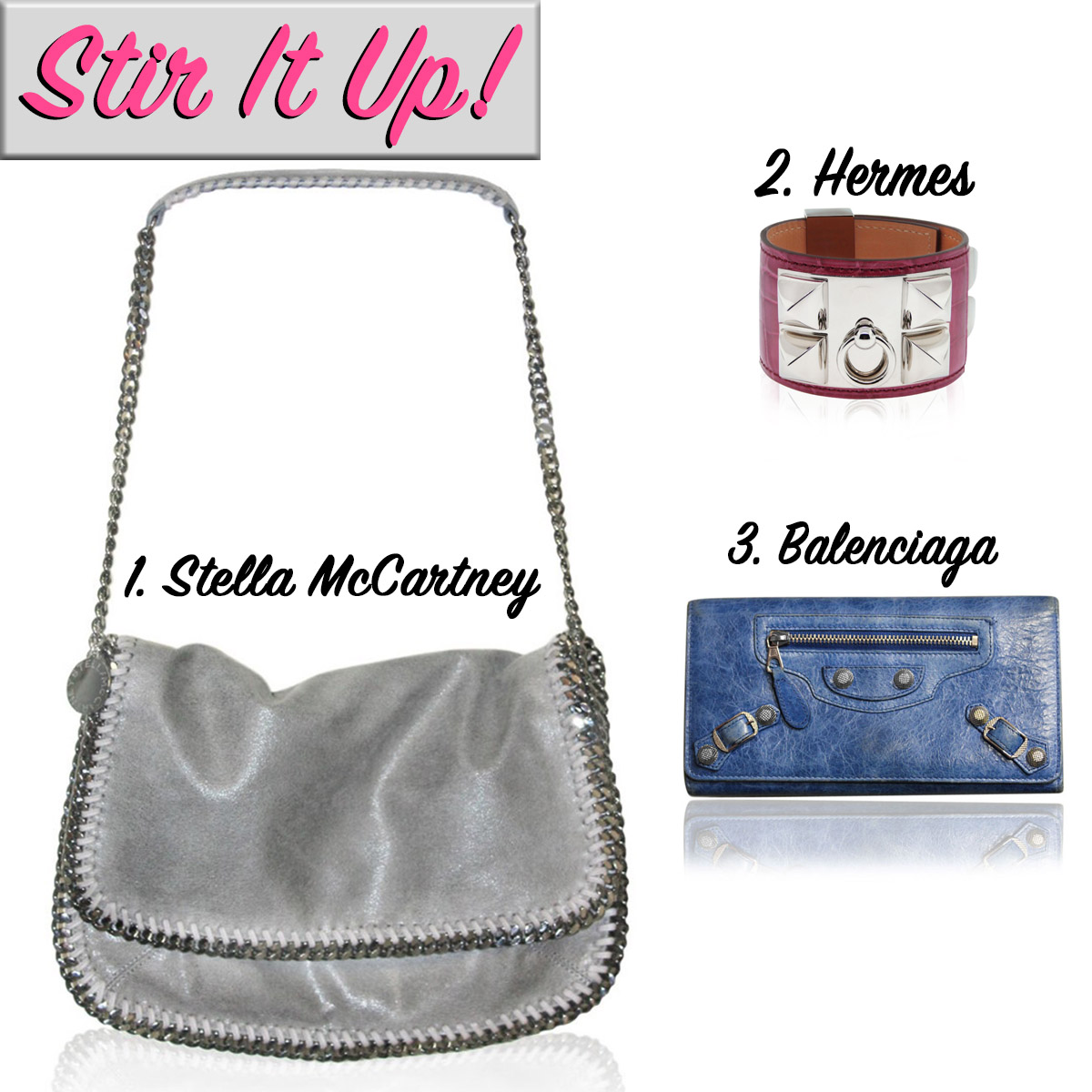 1.  Stella McCartney Light Grey Falabella Shaggy Deer Messenger Bag-via Sellyourhandbag.com
2. Hermes Collier de Chien Crocodile Fuchsia SHW Cuff Bracelet- via Sellyourhandbag.com
3. Balenciaga Blue Leather Long Stud Wallet- via Sellyourhandbag.com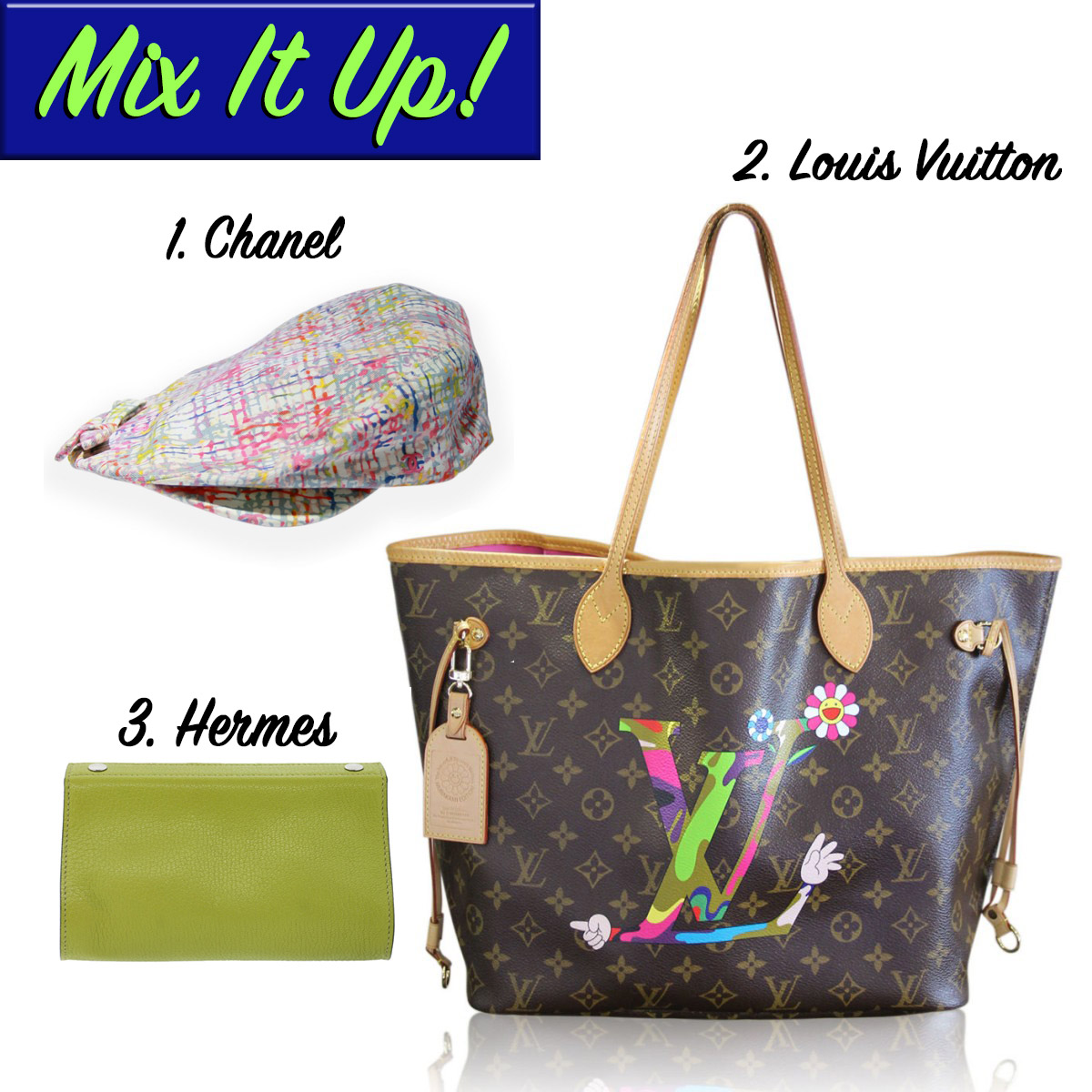 1. Chanel Multi-Color Cotton Beret- via Sellyourhandbag.com
2. Louis Vuitton Rare Murakami Neverfull MM Tote Bag- via Sellyourhandbag.com 
3. Hermes Karo PM Vert Anis Chevre Argente Palladium Make Up Case- via Sellyourhandbag.com

Hermes Rust Orange 100% Linen Beret Hat- via Sellyourhandbag.com
Related articles