For those of us who LOVE a new Hermes scarf, there are infinite ways we can show them off. An Hermes scarf is not only to be worn around the neck to cover us during the chilly seasons, but it is also meant to be an accessory to our wardrobe and our handbag for every season! With so many different colors, designs and sizes of Hermes scarves, we've come up with 5 awesome ways to wear and show off your new scarf!
Accessorize your arm! Give your arm a little pizzaz with a wrapped Hermes scarf and coordinating Hermes Collier de Chien cuff bracelet! There are so many ways you can wrap the scarf around your arm, however you may need an extra set of hands to securely tie the knot! This is a super stylish, chic and unique way to dress up your wardrobe and show off your new Hermes scarf!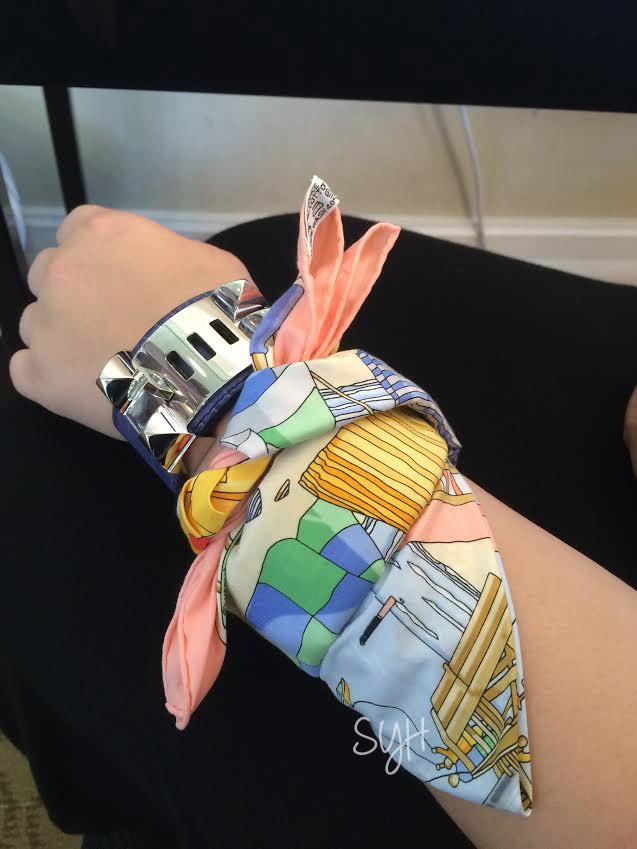 2. Dress Up Your Bag! Wrapping your scarf around the handles of your handbag can add just the right of AWESOME to your purse. Turn that bland handbag into a blooming scenery of colors and design! Not only does the scarf add a creative twist to your bag, it also preserves the handles. Though the scarf may get dirty, you have more of an ability to dry clean your scarf, rather than your handbag. There are many ways you can tie your scarf onto your bag. A simple bow tied onto your handles works well and gives a subtle, chic look to your purse. Twist the scarf around the handles and you have something a little more unique and offers your added comfort when you're holding your bag.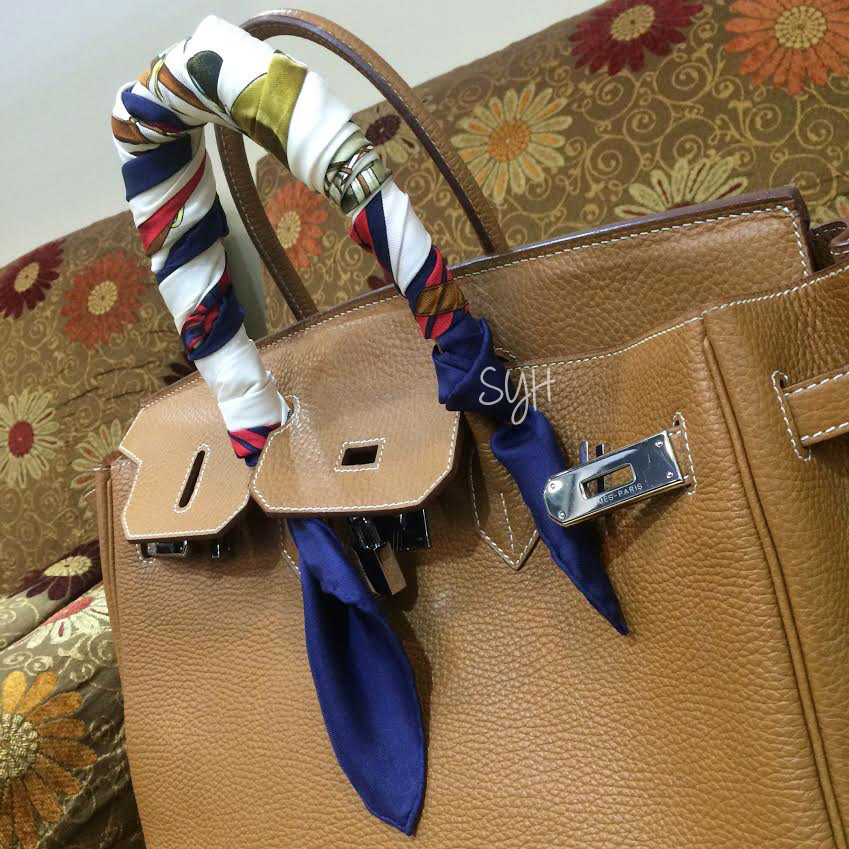 3. Wrap Around Your Head! An Hermes scarf can save you when it comes to a bad hair day! Just simply wrap your scarf around your head and tie a knot in the back, let the access scarf hang to the sides of your shoulders and you're ready to take on the day! A colorful design can add some serious style to your wardrobe too! An Hermes Twilly Scarf can be the perfect headband, or wrap a full scarf around your head during those cool winter days to keep your head and ears warm.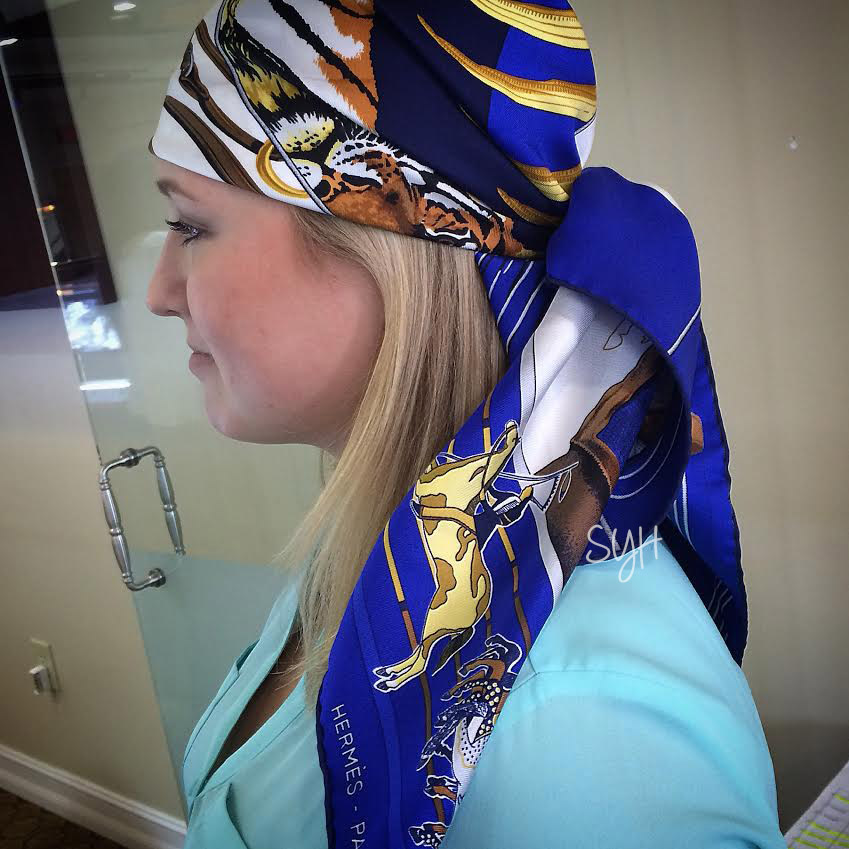 4. Rock a Wrap Belt! No, no, no, don't put on that Hermes leather belt! You've got yourself an awesome Hermes scarf, full of detailed colors and designs that can be transformed into a chic waist belt! By folding your scarf in a rectangular shape, you can simply wrap your scarf around your waist, and either tie a bow, a knot, you could be super creative and use multiple scarves to create a braided look!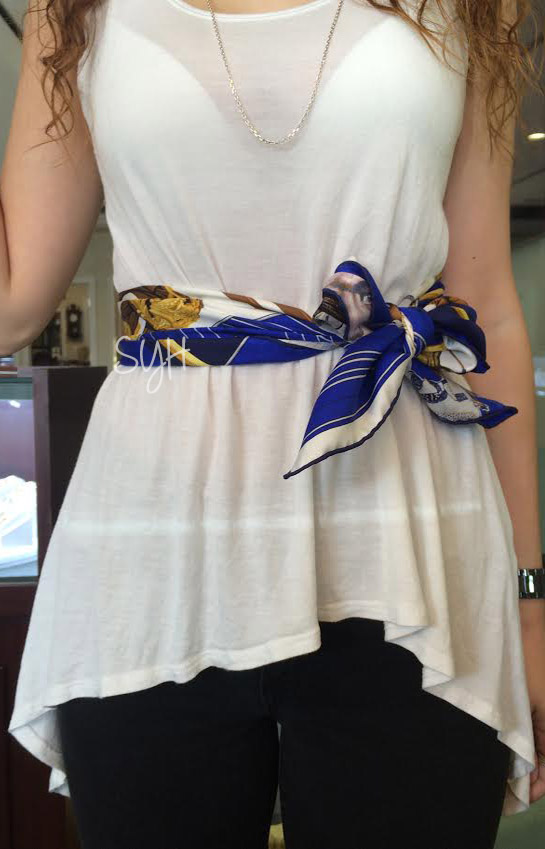 5. Scarf it up! Of course we couldn't forget about the traditional way to wear a scarf, around your neck! They are so many ways you can be super fashionable with a tied Hermes scarf around your neck. With many different knots, braids, and bows that you can create, it only makes sense to include this as one of the five awesome ways to wear an Hermes Scarf. Rocking an Hermes scarf around your neck is a sophisticated, chic, and very fashionable way to show off your new scarf, especially the detail!
Be sure to check out these authentic affordable Hermes scarves at SellYourHandbag.com!
Related articles